Mitsubishi Tanabe Pharma to Buy Israel-Based NeuroDerm for $1.1 Billion
Osaka-based Mitsubishi Tanabe said it expects the deal would help it achieve sales of over $700 million in the U.S. by 2020
Japanese drugmaker Mitsubishi Tanabe Pharma agreed to buy Israel-based drug company NeuroDerm for $1.1 billion in an all-cash deal, the companies announced earlier today.
The deal reflects a 17% premium on NeuroDerm's share price on Friday's close, and a 79% share's price June 9, before it started trending up following media reports concerning the possible sale of the company.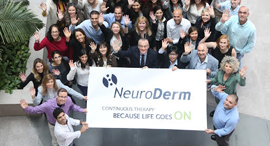 NeuroDerm employees
Osaka-based Mitsubishi Tanabe said it expects the deal would help it achieve sales of over $700 million in the U.S. by 2020.
Based in Rehovot, 14 miles to the south of Tel-Aviv, Nasdaq-listed NeuroDerm develops reformulations of existing Parkinson disease drugs that can be administered via a pump, replacing oral medications or surgically placed in-body drug release implants.
NeuroDerm expects the deal to be completed in the fourth quarter of 2017, assuming the deal is approved by both regulators and shareholders.
According to the American Parkinson Disease Association, four to six million people in the world are currently suffering from the disease. The association estimates the market size for Parkinson disease treatments at $3 billion a year. Most of these patients are treated with Levodopa, a drug that breaks down within 90 minutes of administration. NeuroDerm's pump-drug combination aims to bypass the limited efficacy time by providing continuous administration.
"We believe the transaction will bring important benefits to shareholders of NeuroDerm and patients with Parkinson's disease who urgently need innovative treatments," said NeuroDerm CEO Oded Lieberman in a statement by the company.
Although reporting losses of 32.5 million dollars in 2016, successful clinical trials enabled NeuroDerm to attract some high-profile bidders, according to several people familiar with the matter who spoke on conditions of anonymity.