In Time for Coffee Lake Launch, Intel CEO Visits Israel
Intel CEO Brian Krzanich landed in Israel on Sunday, on time for the global Monday launch of Intel's new generation of core processors
Intel CEO Brian Krzanich landed in Israel on Sunday, on time for the global Monday launch of Intel's new generation of core processors, developed largely in Intel's Israeli research and development facilities.

Mr. Krzanich began his visit with meetings at the offices of Jerusalem-based car technology company Mobileye, recently bought by Intel, according to two persons familiar with the matter who spoke on conditions of anonymity. He continued the Monday tour with visits to Intel's research and development facilities and to the company's manufacturing plant in Kiryat-Gat, around 30 miles south of Tel-Aviv.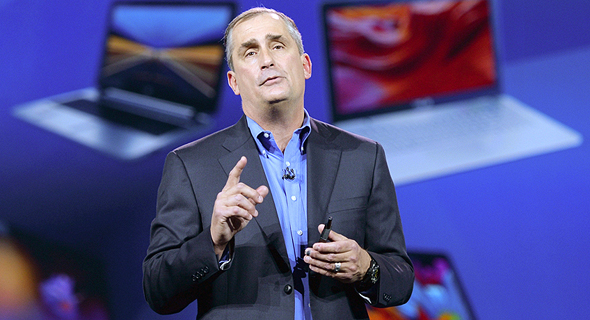 Intel CEO Brian Krzanich
Development of Intel's latest chip series was spearheaded by the company's research and development operation in Israel. The new 15-Watt processors are 40% percent faster than the previous generation, according to Intel. The Coffee Lake chips have enhanced virtual reality capabilities, and can process data more efficiently compared to the previous generations of Intel chips, making them especially useful for people working with image and video rendering.
"This is a turning point, the most definitive advance in performance seen in the last decade," Intel vice president Valentin Kaplan, one of the leaders of the Coffee Lake chips, said in an interview with Calacalist.