Third Point Ventures Backs Startup Oryx Vision
The Israel-based startup developing autonomous cars technology raised $50 million. Oryx Vision invented a special Low-Cost LiDAR, vital for Auto AI
Israel-based low-cost LiDAR startup Oryx Vision raised $50 million, the company said Tuesday. New York-based hedge fund Third Point Ventures co-led the funding round, along with San Francisco-based venture capital firm Walden Riverwood Ventures.

Founded in 2009, Oryx develops a light detection and ranging camera system (LiDAR) for autonomous cars. Headquartered in Petah-Tikva, 6 miles east of Tel-Aviv, it raised $67 million to date. The company expects to ship units for car-mounted testing in the second half of 2018.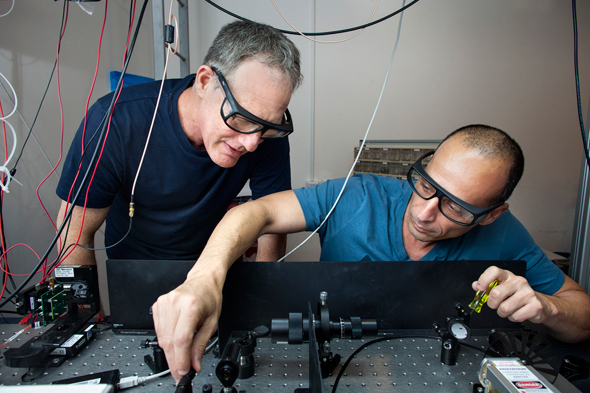 Oryx Vision founders Rani Wellingstein (left) and David Ben Bassat (right)

Seen as an essential part of autonomous cars, LiDAR systems send lasers to create a 3D mapping of objects around. The current high-costs of such systems is a major challenge for self-driving car initiatives, said London-based market research company HIS Markit in a May 2017 report.

The potential size of the future market has made multiple startups try and improve existing technology and come up with better cost-effective designs and investors are clamoring to get in.

On August 2016, Ford and Baidu announced an investment of $150 million in Morgan Hill, Califonia-based firm Velodyne LiDAR. The same month, Sunnyvale, California-based LiDAR startup Quanergy announced a $90 million funding round and Israel-based Innoviz announced a $9 million round.

"It's uncommon to discover a company that builds a completely new primary technology and creates a solution with dramatic commercial implications. Oryx does both," said Robert Schwarz, managing partner at Third Point Ventures in a press release Tuesday.

Union Tech Ventures, and existing investors Bessemer Venture Partners, Maniv Mobility, and Trucks VC, also participated in the round, Oryx said.

Oryx intends to use the fund to expedite research and development and advance its relationships with automakers and part suppliers, the company said in a press release.