New EU Trend: Mega Startup Campuses
Europe is at the helm of the latest efforts in shared workspaces
Mega startup campuses, the latest trend in co-working, are spreading their wings in Europe. They are different from the traditional co-working space not just in size but also in scope and ambition.

As the founding head of Campus London, Google's first physical hub for startups, now home to over 80,000 registered members, I thought sharing the latest developments in this indutry from my perspective would be interesting.

What is a Startup Campus?

Traditional co-working spaces offer startups the ability to rent a desk or space and co-habitat with other startups, and in some cases also with investors, freelancers and service providers (some communities restrict membership only to startups). WeWork, perhaps the largest and most global co-working space company, is the industry's poster child, with 221 locations in 52 cities.

To a large extent, what co-working provides is managed real estate. Startups can plug in and start working right away, without worrying about buying furniture or hiring a receptionist.

Mega Campuses are a bit different: they offer a startup ecosystem where co-working is only one of the components. In addition to managed real estate, mega campuses are also home to startup accelerator programs, public or free co-working spaces (typically a cafe), and in some cases even corporate innovation units. In addition to hosting events, they often offer curated programs to their communities.

To accommodate all of these activities, they tend to be large in size, and as the examples offered below demonstrate, the trend seems to be the bigger, the better.

France: Station F, Paris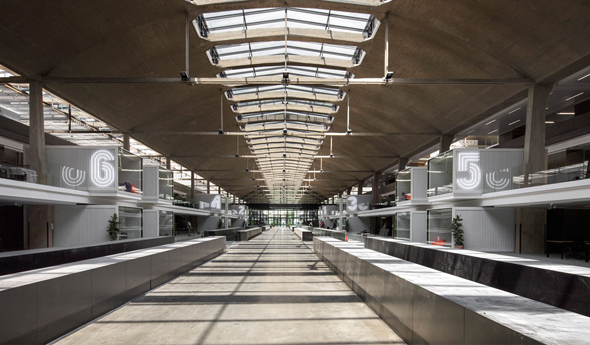 Station F, Paris

Station F launched in July, with newly elected President Emmanuel Macron, who wants to make Paris a global tech hub, in attendance. It is the brainchild of tech billionaire and serial entrepreneur Xavier Neil, who invested millions in acquiring and refitting the building. Station F is led by Roxanne Varza, the former head of Microsoft's Accelerator in France and the co-founder of European blog Tech.eu, who has been very actively supporting startups internationally as well as in France.

Station F covers 366,000 square feet (34,000 square meters), offering over 3000 desks in the startup zone alongside eight event spaces. It is currently home to 26 international startup programs, and amongst its tenants are over 10 VC funds, including Accel, Index Ventures, Balderton, Daphni and Partech Ventures.

Startups can apply to join Station F as members for either €195 (around $230) a month per desk, or €900 (around $1075) a year for hot desks and five monthly days.

In 2018, Station F plans to add 100 shared apartments for entrepreneurs and a sports center 10 minutes away from Campus.

Germany: Factory Berlin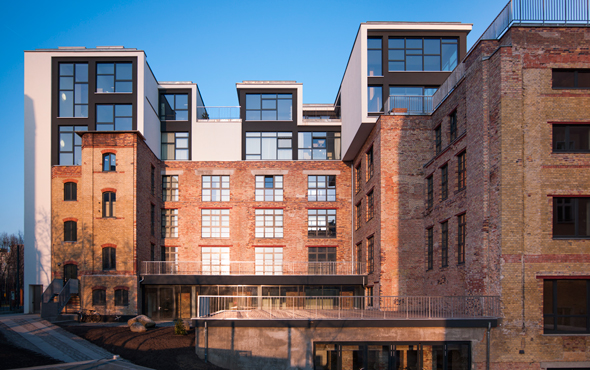 Factory Berlin

Based in Berlin's Mitte neighborhood, Factory Berlin was launched in 2014 by investor and entrepreneur Simon Schaeffer, who sold all assets and contracts associated with Factory Berlin and licensed the brand to real estate developers s+p Real Estate in 2015.

The campus spans 75,000 square feet (16,000 square meters), with a public access cafe and an organic supermarket. Its core tenants include SoundCloud, Twitter, Uber, Zendesk and Pinterest, and corporate partners include Deutsche Bank, Deloitte, Lakestar Ventures and Google for Entrepreneurs.

I worked on the original partnership with Google for Entrepreneurs, who is now in the process of launching its own self-operated Google Campus in Berlin.

Factory Berlin also offers a more limited co-working space for smaller startups, and its clients includes the likes of Zenloop GmbH, Progedo Mobility Partner, Klara Technologies Inc., and Drivy.

Portugal: Factory Lisbon

With a fresh investment of €1 million ($1.2 million), Simon Schaeffer is now taking the Factory brand to Lisbon and opening a new mega campus in Beato, an up-and-coming industrial neighborhood. The project is a collaboration with Startup Lisboa, an early stage startup incubator, and Lisbon's city hall.

The space has yet to launch, but will offer 376,000 square feet (35,000 square meters ) during its first phase, including office space for up to 500 people, several event spaces, a rooftop terrace, a gym, and Factory's own cafe and craft beer bar. The second phase will reportedly more than double the space; when complete, Factory Lisbon will span 100,000 square meters.

With a population of 10 million, where will the Portuguese entrepreneurs come from? Lisbon is already positioning itself as a sunny and less expensive alternative to Berlin. The government is looking to attract startups with incentives such as 10 tax-free years for startups who will relocate to Portugal, a strategy that has worked well for hubs like Dublin (at least while the incentives continue). Attracting initiatives like WebSummit, the annual technology conference that will be held in Lisbon in November, is also a good start.

Another hub, which will launch in Lisbon in December, is Second Home Lisboa, the fourth branch of English entrepreneur Rohan Silva's beautiful London co-working space.

UK: Here East campus, London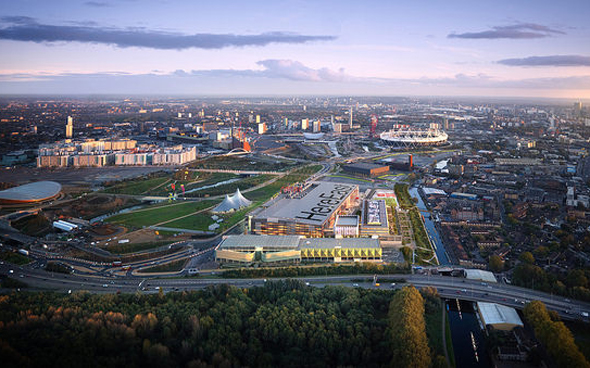 Here East's future Campus (illustration)

Apart from Google's Campus London, perhaps the first 'startup campus' in Europe, several additional hubs have emerged in recent years, adding to the ever-expanding silicon roundabout.

Plexal is the latest addition, located in the Queen Elizabeth Olympic Park. The space is based in Here East, the former Olympic broadcasting centre, which offers 1.2 million square feet (around 111,000 square meters) to corporations, academic institutions and sporting and creative facilities.

Plexal is Here East's startup-dedicated portion, offering 68,000 square feet (6,300 square meters) to 800 residents: startups both big and small can collaborate with the various partners within HereEast.

The campus offers office spaces with 4–30 desks and an access to fibre internet (a legacy of the Olympic Games), event spaces that can accommodate up to 250 people, specialized prototyping and manufacturing facilities and corporate innovation programs.

It's encouraging to see the growth of mega campuses in Europe; despite the trend of nomadic tech workers, real estate remains a core part of strong startup hubs.

Eze Vidra is the founder of Techbikers, a non-profit organization supporting children's education and tech community building through cycling, and the CIO of digital health company Antidote.me. He is the former head of Google for Entrepreneurs and a former general partner in Google Ventures Europe.