Gambling Firm 888 to Pay Record £8 Million Fine
The U.K. Gambling Commission penalized the online gambling company for 'failing vulnerable customers'
888 Holdings plc will pay a record penalty package of £7.8 million ($10.1million) for failing to protect vulnerable customers from gambling-related harm, the U.K. Gambling commission announced Thursday.

According to the commission, over 7,000 customers who chose to self-exclude from their casino, poker or sport platform were able to access their accounts on the bingo platform due to a glitch in 888's systems. This issue remained undetected for "a prolonged period of time," meaning these customers were still able to deposit £3.5 million ($4.5 million) into their accounts and continue gambling for 13 months despite their attempt at self excusion.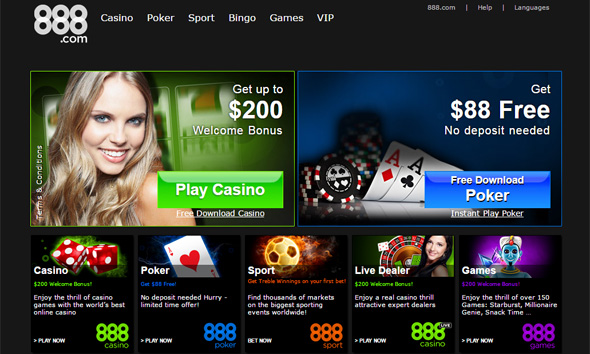 The 888 Holdings website
According to the commission's annual report, published February 2017 for the year 2016, 48% of the people sampled for the report gambled in the four weeks predating the sampling, and 17% gambled online. 6% have self-secluded from a gambling company before, and 37% were aware of the option despite not using. 10% of gamblers chose to impose financial limits on their gambling.
888's second failure, according to the commission, was in failing to recognize the problematic gambling behavior of an individual customer who staked more than £1.3 million ($1.68) over a period of 13 months, gambling on average 3-4 hours a day. In this case 888's failure led to criminal activity when the individual in question stole £55 thousand (over $70 thousand) from their employer to finance their gambling.
"Safeguarding consumers is not optional," said Sarah Harrison, chief executive at the Gambling Commission. "The 888 sanction package will ensure those affected don't lose out, that the operator pays the price for its failings via a sum that will go to tackling gambling-related harm, and that independent assurance will be given to see that lessons are learnt."
Of the fine, £3.5 million will be used to compensate the deposits made by the self-excluded customers, and £62 thousand ($80 thousand) will go to the robbed employer. A further £4.25million (~$5.5 million) will be paid to a socially responsible cause, to invest in measures to tackle gambling-related harm.
The Commission has also ordered an independent audit of 888's processes relating to customer protection.
Founded in 1997 by four Israeli entrepreneurs and headquartered in Gibraltar, 888 owns several subsidiaries and brands, among them 888casino, launched 1997, 888poker, launched 2002, and 888 Bingo and 888sport, launched 2008.
The U.K. Gambling Commission's investigation first became known in May. Following the announcement on Thursday, 888's stock, which is listed on the London Stock Market, went up by 5.44% by market close.