Israel Unveils New Armored Vehicle
On Tuesday Israel unveiled a lightweight next-generation armored vehicle and two unmanned submarines
On Tuesday Israel unveiled a lightweight next-generation armored vehicle and two unmanned submarines.
Showcased at a press, event the new technologies were developed by the weapons development division of the Israeli defense ministry in collaboration with Israeli and non-Israeli arms companies and Israeli research institutions. While some of the models presented are already at the hands of Israel's army, others are for now mere concepts, and none have been declared operational to date.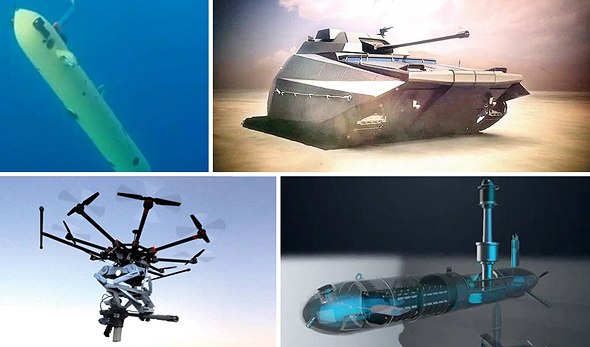 Israel unveils new military technology
Dubbed "Carmel", a new armored vehicle intended to replace the Israeli Merkava tank was presented. Described as "light," "small," and "easy to operate," the vehicle is now at the early stages of a three-year development plan. Intended for a two-person team, it will be powered by a hybrid electric motor and will include smart helmets.
The two unmanned submarines presented are intended for intelligence gathering and search and mapping missions.,The bigger of the two, called Caesaron, can be equipped with various sensors.
The Israeli defense ministry also presented two carrier-drones, and a sniper-drone developed jointly by Israeli and American companies.
Developed by Israel Aerospace Industries Ltd., one of the carrier-drones can carry up to 400 pounds at 93 MPH.
Called TIKAD, the sniper-drone presented can carry and accurately fire an assault rifle. It is being developed by Duke Robotics Inc., a company based in Gulf Breeze, Florida.