Ofo Readies Israeli Marketing Campaign
The Chinese bike-sharing company has chosen Tel Aviv-based University Bar-Ilan as the company's first operational site in Israel
Update, September 28: Bar-Ilan University will operate Ofo's service in its campus, the University's spokeswoman confirmed following a request for comment.
Beijing-based bike-sharing company Ofo will launch a Facebook campaign in the next few days, inviting people in Tel Aviv to try out the company's bicycles for free, according to people familiar with the matter who spoke on conditions of anonymity. The company is now attempting to partner with the Tel Aviv municipality on local installations.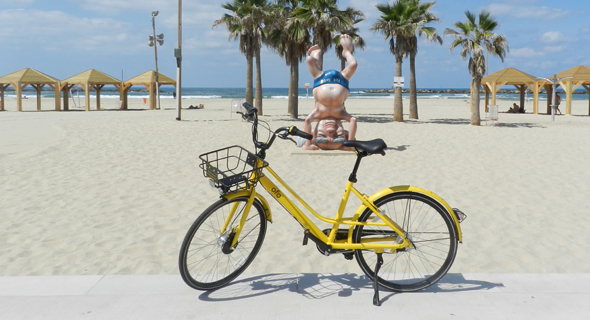 An Ofo bike in Tel Aviv

Founded in 2014, Ofo has been at the center of far-reaching changes, influencing tens of millions of Chinese consumers to switch to ride-sharing and bicycles sharing services. It operates over 6.5 million bikes in 150 cities, mostly in China, and has some 100 million users. In July it raised $700 million in a funding round led by Alibaba.

The Tel Aviv municipality currently operates a bicycle rental service called Tel-O-Fun. Originally developed in collaboration with German railway company Deutsche Bahn AG, the service is operated by Tel Aviv-based FSM Ground Services Ltd.

Ofo's intention to enter the Israeli market was first reported by Calcalist in July. The company sees Israel as a strategic market despite its small market size, people familiar with the matter said.

In the past two months Ofo started recruit a local team to build its on-ground operations. Used to unlock the bikes by scanning a QR code with the user's smartphone, Ofo's app was translated into Hebrew and the company imported hundreds of bicycles.

Bar Ilan University has been approached for comment and has yet to reply.

Tel Aviv municipality has been approached for comment and has yet to reply.