Teva Submits Potential Moneymaker Migraine Drug for FDA Approval
Teva's patent for its moneymaker multiple sclerosis drug Copaxone expired last year
Teva Pharmaceutical Industries ltd. submitted an application for its migraine prevention drug fremanezumab to the U.S. Food and Drug Administration, the company announced yesterday.

If approved, the drug has the potential to be a new blockbuster drug for Teva. Teva's patent for its moneymaker multiple sclerosis drug Copaxone expired last year. Migraine affects one in 10 people worldwide, according to a January study published in Journal of the Neurological Sciences.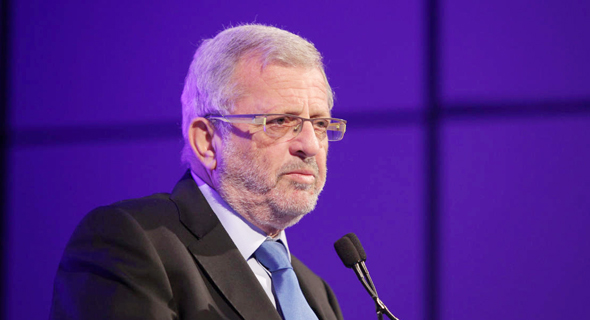 Teva's interim CEO Yitzhak Peterburg

"I'd rather not elaborate on the price and marketing strategy," Teva's interim CEO Yitzhak Peterburg said in an interview with Calcalist in May, referring to the drug. "There are no good solutions for migraine today, so it's hard to estimate market size, but only we have a quarterly treatment. It's a multi-billion drug."

Three other companies are currently developing migraine drugs along the same technology as Teva—Eli Lilly and Company, Alder BioPharmaceuticals and Amgen Inc. The drugs of all three necessitate daily use. So far, Amgen is the only one to submit an application to the FDA; the company's drug erenumab was accepted for review in July.

The sales of migraine products are expected to grow to $8.7 billion by 2026, with market growth being driven by the development and launch of new drugs and specifically these four, said analytics firm GlobalData in a September report. The firm added that the US will continue to dominate the market with a 77% share of total sales.

"There have been few therapeutic innovations for migraine patients in over 25 years," said Michael Hayden, chief scientific officer at Teva. "If approved, fremanezumab will be among the first to enter the market in a new class of drugs for the preventive treatment of migraine."

"Phase III clinical studies of fremanezumab demonstrated a significant reduction in the number of migraine and headache days, acute medication use and disability, in addition to demonstrating improvement in quality of life in patients living with episodic and chronic migraine," said Ernesto Aycardi, M.D., Vice President, Therapeutic Area Head, Migraine & Headache at Teva.

Chronic migraine is defined as 15 or more headache days per month over at least three months, while episodic migraine is defined as less than 14 migraines a month. According to Teva, 10% of migraine sufferers are diagnosed with chronic migraine.