Intel Unveils Model for Safe Driverless Cars
Amnon Shashua, co-founder of newly bought Mobileye, presented a plan for an automated vehicle that won't cause accidents
On Wednesday, Intel unveiled a plan for a safe self-driving vehicle model. The model's framework was outlined in a paper by Amnon Shashua, co-founder of newly bought automotive technologies company Mobileye, and Mobileye's vice president of technology Shai Shalev-Shwartz.

Autonomous vehicle safety is a stumbling block for all industry players. Recent surveys performed in the U.S.– the main trial market for the industry – reported significant distrust in autonomous cars. An August report by American research and advisory firm Gartner Inc., for example, found that 55% of survey respondents would not consider riding in a fully autonomous vehicle, though 71% may consider riding in a partially autonomous vehicle. An earlier 2016 survey by The American Automobile Association found only one in Five Americans would trust an autonomous car to drive itself.
Intel's autonomous vehicles

In February 2016 an autonomous Google Lexus test car crashed into a bus in California while preparing for a turn. Then in June 2016, a Tesla test driver was killed in what became the first known self-driving fatal car accident. In December 2016 an Uber computer-controlled car was caught running a red light, and though Uber blamed the driver, the incident still caused a temporary problem with California regulators.

Regulators are also wrestling with this problem. The U.S. still lacks definitive regulations, and regulators in the U.K. have mostly dealt with the insurance and liability side of things so far. In May Germany broadly legalize self-driving cars as long as a human driver is still present behind the wheel, and in August they became the first government to publish "ethical guidelines" for such vehicles. The government acknowledged that accidents cannot be prevented completely, and thus the vehicle's' programming should prioritize human safety above animals and property but without racial, age, gender or other bias. Such vehicles must also give the human driver the ability to overrule their programming.

Through Mobileye, Intel is now offering a mathematical solution for this problem. The company says accidents are inevitable with human drivers still on the road, but that autonomous vehicles could be programmed to be blameless, and that it designed such a system.

The Responsibility Sensitive Safety (RSS) system outlined in the paper uses specific and measurable parameters for the human concepts of responsibility and caution, combines them with the vehicle's enhanced capabilities like 360-degree vision and lightning-fast reaction times, and defines a "safe state" where the autonomous vehicle's system would not issue a command that would cause an accident, no matter the action taken by other vehicles.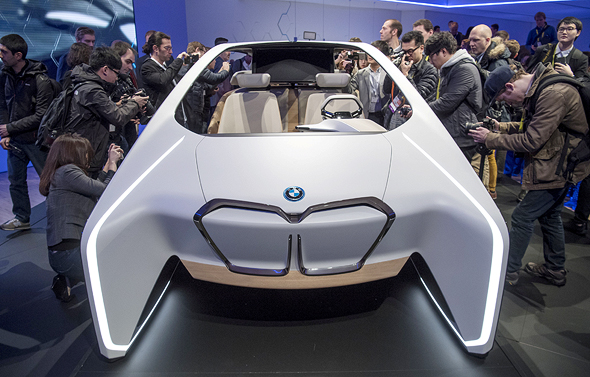 An Intel and Mobileye autonomous car prototype

In the paper, Mobileye said that such a model could be used to establish clear definitions for fault that in turn can be translated into insurance policy and driving laws, and called for industry organizations and regulators to adopt it.

Mobileye aims for the serial production of an autonomous car by 2021, but it needs Intel's lobbying power to overcome both technology and regulation challenges and sway U.S. regulators, Mr. Shashua said in September during Calcalist's 2017 National Economic Council.

Waymo, the autonomous vehicle unit spun out of Google in December, is another industry player working on swaying the public view on autonomous cars. Last week the company published its first-ever Safety Report, detailing the technology and safety procedures used in its planned car fleet. Examples are an audio detection system that can hear police and emergency vehicle sirens from far away and make way, and an ability to predict the move of cyclists into the lane due to construction on the road. Earlier this month, the company launched an education campaign intended to ease people's minds about self-driving cars.

But Waymo isn't the only one currently courting the public; the same day its campaign launched, Intel put out an ad starring Lebron James, showing the NBA superstar riding around in one of the company's driverless cars. In case you were wondering, he wants to keep it, at least according to the commercial.