Japan's Marubeni IT Solutions Partners with Cybersecurity Startup Secdo
Secdo develops and markets an endpoint information security software. The companies estimate that sales of the software in Japan will total $15-20 million over the next three years
Cybersecurity startup Secdo Ltd. has sold a license to distribute its technology in Japan to Marubeni IT Solutions. The companies estimate that sales of the Secdo software in Japan will total $15-20 million over the next three years, Secdo's President Amir Kotler said in an interview with Calcalist Sunday.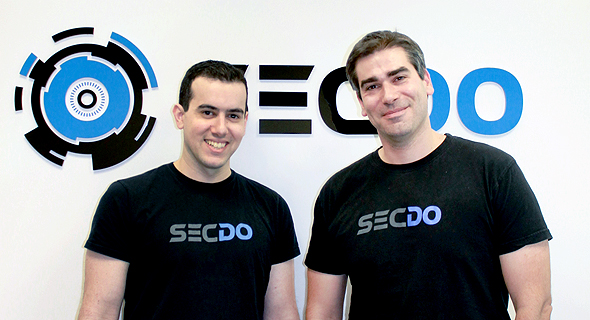 Secdo co-founders Gil Barak (left) and Shai Morag (right)

Secdo develops and markets an endpoint information security software. Headquartered in New-York, the company was founded in 2014 by Shai Morag and Gil Barak, two veterans of the Israeli army's Unit 8200, an equivalent of the NSA and British GCHQ. It lists Wayne, New Jersey-based Valley National Bancorp, and Newark, New Jersey-based telecommunication firm IDT Corp. as customers.

Earlier this year, Marubeni IT Solutions purchased Secdo's software for internal use. After using the product Marubeni expressed interest in marketing the product in Japan and had already started selling the product, Mr. Kotler added. Secdo is in the process of configuring its software for the specific needs of the Japanese market, he said.

"In the borderless enterprise, we need to know what is happening on our endpoints at all times to be able to respond quickly and effectively when a real incident occurs," said Futoshi Okayasu, Marubeni IT Solution's incident response team leader.

In June, Japan's Softbank Corp. announced an investment of $100 million in Israeli-linked endpoint information security company Cybereason, with an aim to launch commercial services in Japan. The deal valued Cybereason at $1 billion according to a June Wall Street Journal report citing "people familiar with the matter."

This article has been updated. A previous version stated that Amir Kotler is Secdo's CEO.