Teva Canada Probed by Ontario Government
According to a report by Canadian newspaper Toronto Star the company is under investigation for alleged illegal rebates given to pharmacies to boost sales. A Teva spokesman said the company will cooperate fully with any investigation by the Ontario Ministry of Health.
This article has been updated with a new comment from Teva Pharmaceutical Industries ltd.
An account manager from Teva Pharmaceutical Industries ltd.'s subsidiary Teva Canasa allegedly offered Ontario-based pharmacies illegal rebates to stock the company's opioid medications fentanyl and oxycodone, according to a report published Thursday in Canadian newspaper Toronto Star, citing emails sent by Teva employees obtained by the newspaper.
The Star said it provided the Ontario government with a summary of the emails it obtained, prompting Health Minister Eric Hoskins to announce a probe into Teva.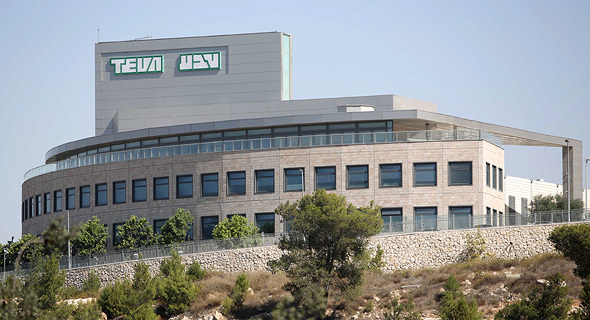 A Teva Pharmaceutical Industries factory in Jerusalem

According to the report, a Teva Canada executive offered to reimburse pharmacies for 15% of the drugs' price if stocked, a practice known as a rebate. Legal in most countries and even state-mandated in some cases, direct rebates have been outlawed in Ontario since 2006, with indirect rebates outlawed in 2010.

The Star cites data saying Ontario pharmacies stock and dispense Teva's versions of oxycodone much more than its competitors. The data shows that since 2012, the province has paid more than $50 million to cover the cost of Teva's oxycodone medication as part of its drug benefit program, six times more than all other generic versions of the drug combined.

A Teva Pharmacutical Industries spokesman told Calcalist "as a company, Teva prohibits the offering of product-related rebates to Ontario-based pharmacies and provides ongoing training to employees to ensure that we continue to operate our business in a legal and ethical manner. Teva is cooperating fully with the investigation by the Ontario Ministry of Health. We are confident that our company is operating in full compliance with all laws and regulations."

The Star reported that Teva and four other generic drug makers are currently under scrutiny in Ontario due to an alleged rebate scheme with retail chain Costco.

In 2016 Teva agreed to pay combined penalties of $519 million to the U.S. authorities after the company and some of its wholly-owned subsidiaries admitted to paying millions in bribes to public officials and doctors in Russia, the Ukraine, and Mexico.