New CEO to Take Helm at Troubled Teva Wednesday
The generic drugmaker shed 67% of its market price over the last 12 months
Kåre Schultz, the Denmark-born pharma executive chosen by Teva Pharmaceutical Industries Ltd. to replace former CEO Erez Vigodman, will assume his new position on Wednesday, Teva announced yesterday.

Earlier this month Calcalist reported that Mr. Schultz will finish relocate to Israel and step into his role as Teva CEO by the end of the month, citing sources.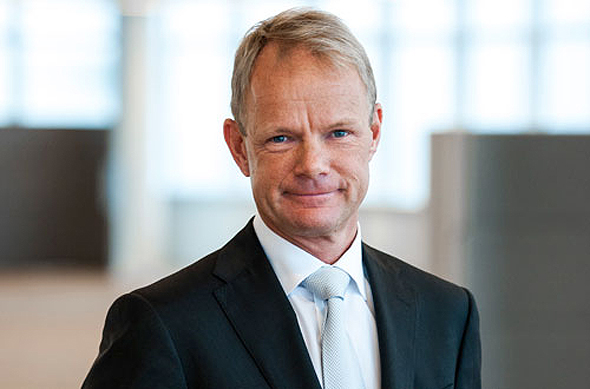 New Teva CEO Kåre Schultz
Mr. Schultz resigned his position as CEO of Copenhagen-based pharmaceutical company H. Lundbeck A/S when his new appointment was announced in September, but agreed to stay on while the company searched for a replacement. Yesterday Lundbeck said that its chief financial officer Anders Götzsche will take over as interim CEO while the search continues.
"I look forward to travelling throughout Teva's global operations and reviewing the opportunities we have to better serve patients and healthcare systems in each of our markets," Mr. Schultz said in the announcement. "My focus will be on strengthening Teva's business and enhancing our leadership in specialty and generic medicines to deliver sustained shareholder value creation."
Mr. Schultz is joining Teva after a particularly disastrous year—over the last 12 months the company's stock price dropped 67%.
In August, Teva released quarterly reports in which it wrote-off $6.1 billion, sending the company's stock crashing. This is at least in part the result of Teva's 2016 buy of Allergan's generic unit Allergan Generics for $40.5 billion, which raised Teva's debt load to $36.8 billion.
The same month the U.S. Patent Appeal and Trial Board invalidated some of Teva's patent for Copaxone, the blockbuster multiple sclerosis drug that brought Teva around $40 billion in revenues over the years.
Though Teva is appealing the decisions, since then more and more Copaxone patents were invalidated in both the U.S. and Europe, the latest being in a U.K. court last week. As a result, Mylan N.V. and generic drug makers Synthon and Alvogen received approval for generic versions of Copaxone at the beginning of the month, though the latter two have been marketing the 20 mg/mL version of the drug in Europe since 2016.
In an attempt to alleviate its debt load Teva is divesting non-core assets. In September, it sold its Women's Health businesses for $2.48 billion.
Combine that with tightening regulations regarding generic drugs and drug prices in the U.S., and Mr. Schultz, who is credited with turning Lundbeck's luck around in his two years as its CEO, has a challenging tenure ahead of him.