To Battle Underground Hamas Tunneling, Israel Is Operating a Clandestine Lab Near the Gaza Border
Geologists are working alongside intelligence officers in a lab dedicated to detecting Hamas tunnelers before they cross over to Israel
The Israeli military (IDF) has established a lab specializing in early detection of underground activity on and near Israel's border with the Gaza strip, a high-ranking IDF officer told Israeli daily newspaper Yedioth Ahronoth on conditions of anonymity.

On Thursday, Yedioth Ahronoth reported that the lab is part of an effort to prevent Hamas from digging underground tunnels that can reach into Israeli communities around Gaza. The new lab is staffed with engineers, geologists, intelligence specialists and combat engineering officers.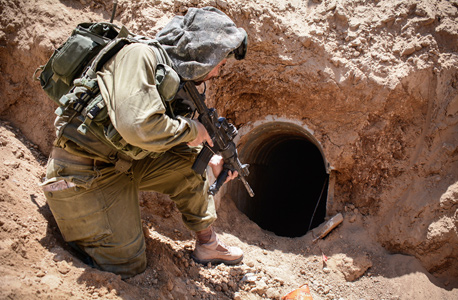 Israeli soldier near a tunnel in Gaza

One of the lab's key functions is to process data coming from systems implemented by Israel in order to detect underground activity. Analysts say the system includes acoustic sensors. Yedioth Ahronoth reported that this technological solution was used in the detection of a tunnel into Israeli territory, dug by Hamas and destroyed by the IDF Monday, killing seven Palestinian tunnelers.

This technology-based detection system is one part of the Israeli military's efforts to protect Israel's border with Gaza. Israel is in the process of installing an underground wall along that border. Named the "Obstacle," the wall is due for completion in January of 2019.

Hamas has been ruling the Gaza strip since 2005, when Israel relinquished its control of the area, and has worked to develop an underground network of tunnels as part of its strategy in the ongoing conflict with Israel. In the summer of 2014, Israel engaged in a 50-day war with Hamas in attempt to destroy tunnel network, killing 2,205 Palestinians and 71 Israelis and the destroying of 18,000 Palestinian homes.