Israel Aerospace Industries Partners With Korea's Hankuk Carbon
The Israeli aerospace and defense company signed a joint venture agreement with the Korean company in Seoul
Israel Aerospace Industries Ltd. (IAI) signed an agreement with Korean company Hankuk Carbon Co. Ltd. to establish a joint venture company in Korea, the companies said in a statement Tuesday. The companies signed the agreement at the International Aerospace and Defense Exhibition (ADEX) in Seoul.

The joint company, Korea Aviation Technologies (KAT), will develop and manufacture unmanned aerial vehicles (UAVs) with vertical takeoff and landing capabilities (VTOL) for Korean military and civilian market.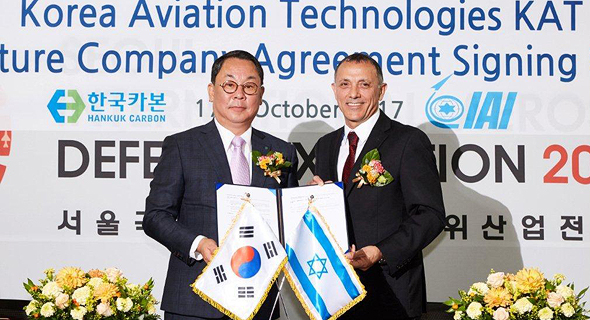 Hankuk Carbon CEO Moon-Soo Cho and Shaul Shahar, IAI Executive Vice President, sign joint venture agreement

The two companies first agreed to enter the joint venture in January 2016.

"Hankuk Carbon brings to the venture strong manufacturing capabilities and know-how," Shaul Shahar, general manager at IAI's Military Aircraft Group, said in a statement.

Owned by the Israeli government, IAI is Israel's largest aerospace and defense company specializing in developing and manufacturing advanced systems for air, space, sea, land, cyber and homeland security. Founded in 1953, the company develops products such as satellites, jets, missiles, weapon systems, and unmanned and robotic systems for government and commercial customers worldwide.

Established in 1984, Hankuk Carbon is Korea's leading composite material company. Hankuk Carbon is currently focusing its future growth effort on aircrafts, automobile parts, and UAVs. In 2016, Hankuk Carbon entered a strategic cooperation with Japanese trading company Mitsui & Co., Ltd., part of the Mitsui Group.