Shift from Security to Civilian Market behind NICE Systems' Growth
Israel-based NICE Systems used to sell surveillance software to governments. Now it provides technology for call centers
Over the past several years, Israel-based NICE Systems Ltd. has shifted its focus from surveillance software for law enforcement and intelligence agencies to call center systems for enterprises. The company published its results for the third quarter over the weekend, showing that the new strategy is paying off.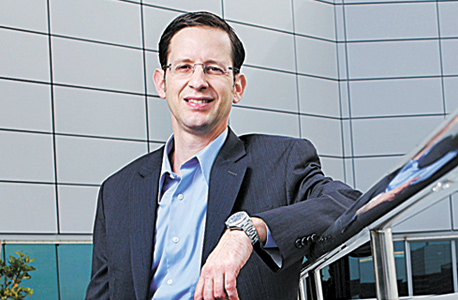 Nice Systems CEO Barak Eilam

NICE is a part of a cluster of Israeli-linked companies that offer communication tracking, monitoring, and surveillance products. Israeli founded, Huntington, New York-headquartered Verint Systems Inc. is a major competitor.

Today, none of NICE's revenue comes from selling security software to government agencies. Instead, the company provides the technology to make customer call centers more efficient. That change is due at least in part, to a strategy pushed forward by CEO Barak Eilam, appointed in February 2014.

"When Barak Eilam joined as CEO, he decided NICE should be more commercially-oriented," said Lena Rogovin, a research analyst for New York-headquartered investment bank Chardan Capital Markets, LLC. The focus on civilian customers offers NICE higher profit margins and a more predictable revenue stream, Ms. Rogovin added.

Two deals have defined Mr. Eilam's tenure. In July 2015, NICE sold its intelligence division to Israel-based defense electronics company Elbit Systems Ltd. for $158 million. Then, in May 2016, the cash from the sale helped NICE acquire Utah-based inContact, which provides software for cloud-based customer service centers, for $940 million. The operations of the two companies were integrated and the subsidiary was rebranded as NICE inContact.Cloud technologies are a major growth engine for the NICE, Ms. Rogovin said.

"We are pursuing opportunities in the cloud in all the markets," Mr. Eilam said.

Mr. Eilam joined NICE in 1999, following his service in military intelligence. He filled various roles in development, marketing and sales. In 2012, Eilam joined the leadership of the company becoming the head of NICE's U.S. subsidiary. Less than two years later, he replaced than CEO Zeevi Bregman.

With Mr. Eilam at the helm, revenues increased by 16% to one billion dollars over the course of two years. Gross profits reached $677 million, a 19% increase. Operating profits went up by 26% to 134 million, and net income by 13% to $116 million.