Chip Company's New Heights Leave Investors Lukewarm
Despite reporting peak revenues, a cautious fourth quarter outlook sent Tower Semiconductor's stock down by 4%
After a 98% jump in stock price over the last year, Israel-based wireless chip and camera sensors manufacturer Tower Semiconductor Ltd. published its third quarter reports Tuesday, announcing record revenues of $355 million, a 9% increase year over year.

The company stayed cautious about its outlook, predicting revenues of $358 million for its fourth quarter of 2017 with an upward or downward range of 5%. The company's stock went down by more than 4% on the Tel Aviv Stock exchange in after hours trading.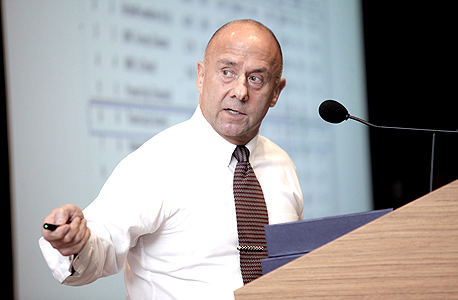 Tower Semiconductor CEO Russell Ellwanger

Tower's EBITDA for the third quarter of 2017 was a record $109 million, a 31% EBITDA margin, compared to $97 million in the third quarter of 2016. Its operating profits were $55 million compared to $49 million.

Tower reported a net profit of $55 million, representing basic EPS of $0.56 and an 8% increase from the third quarter of 2016. This is the highest operational profit Tower achieved, though the company previously reported higher profits as a result of consolidation accounting following its joint venture deal with Panasonic Corporation in 2014.

Tower also reported a record free cash flow of $62 million, double the amount it reported in the third quarter of 2016, composed of a record $104 million cash flow from operations and investments of $42 million in fixed assets.

The free cash flow for this quarter included $18 million received from Hong Kong-registered holding company Tacoma Technology Ltd. The payment was part of the partnership the two companies announced in August for the establishment of fabrication facilities in Nanjing, China.

Tower was contracted as a technical consultant in the project, which is worth around $3 billion, and is entitled to use the new plants to increase its own chip production.