FinTech 2017
Asset Management Is Stuck in the Past, Says Pagaya Group CEO
Big data and analytics are going to change the field of asset management, said Gal Krubiner, CEO and founder of the Pagaya Group
The field of asset management is stuck in the past, said Gal Krubiner, CEO and founder of the Pagaya Group. The main question for the future is how to manage $100 trillion, most of it institutional money, and how to choose the right investment out of endless opportunities.

Mr. Krubiner spoke on Wednesday at a fintech conference held in Tel Aviv by Calcalist, Bank Leumi, and accounting firm KPMG.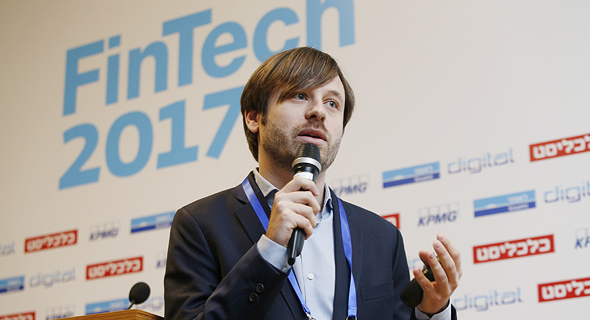 Gal Krubiner, CEO and founder of the Pagaya Group

"It is a sector that got left behind. $73 trillion in revenue, $100 billion in profits, and most of the companies are the same ones that have been in the industry for 60 years," Mr. Krubiner said, adding that the majority of investments are still handled by analysts, in the same traditional manner, even though technology has advanced and could allow greater efficiency and improved results.

Founded in 2016, Pagaya is a fund management firm using machine learning technologies and big data analytics to quickly detect attractive investment opportunities. Pagaya has raised capital from Israel's Bank Leumi, and Israel-based investment companies Meitav Dash Investments Ltd. and Excellence Investment House, among others.

In 2016, Pagaya raised $1.25 million in a seed funding round.

"Many institutional investors are interested in investing in online lending markets. There's a need for new, technology-based investment tools," Mr. Krubiner said back in 2016.

"We started two years ago and we have data on five million people from 10 million data providers. We invest in the U.S. exclusively, and we see the changes happening there way ahead of others," Mr. Krubiner said.