Modi Government Facilitates India-Israel Commercial Ties, Executive Says
Over the past few years, Israeli defense company Israel Aerospace Industries signed deals worth around $3 billion in India, said a company sales and marketing director
Over the past few years, Israeli defense company Israel Aerospace Industries signed deals worth around $3 billion in India, an executive at the company said Wednesday.
"In recent years we have felt a positive change," said Shalom Revivo, director of sales and marketing at the company, speaking yesterday at a conference hosted by DLA Piper Global Law Firm in cooperation with Israel-based law firm Amit, Pollak, Matalon & Co., and accounting firm PwC Israel.
The Indian BJP government formed by Mr. Modi in 2014 encourages cooperation between the countries, Mr. Revivo said. In July, Mr. Modi visited Israel—the first Indian Prime Minister to do so since India's independence in 1947. In a three-day visit to the country, Mr. Modi met with Israeli Prime Minister Benjamin Netanyahu and the two exchanged statements attesting to the warm ties between the countries.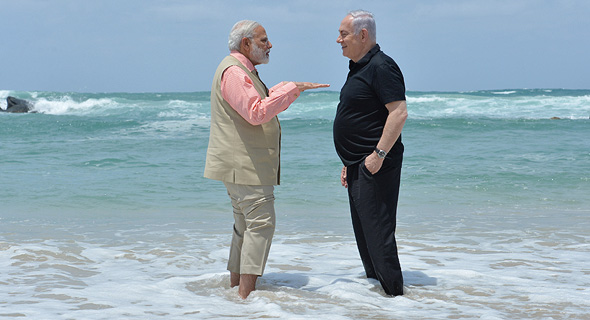 Indian Prime Minister Narendra Modi (left), and Israeli Prime Minister Benjamin Netanyahu (right)
India and Israel formalized relations 25 years ago, but for long years dependence on Middle-Eastern oil and anti-Israel sentiments by India's Muslim population meant ties between the countries remained lukewarm at best; defense, intelligence, and commercial cooperation remained largely out of the public's eye. Noticeably, Israeli-made drones proved crucial in India's military campaign against Pakistan in 1999, giving India a technological edge in the violent confilct.
In accordance with India's government policy, in almost all defense deals signed with India's governmental entities, Israeli companies join in the deal as subcontractors signed by India-based companies. Many Israeli defense companies, including Israel Aerospace Industries and Elbit Systems Ltd., form joint ventures with India-based businesses to get in government tenders.
A manufacturer of military and civilian drones, satellites, missiles, defense systems, and commercial aircrafts, Israel Aerospace Industries is wholly owned by the Israeli government.
In May, the company announced it had signed a memorandum of understanding with India-based Kalyani Group to build a maintenance center for air defense systems in Hyderabad.
In 2016, trade between the two countries totaled $4.17 billion, according to data by the Israeli Ministry of Economy.
Israel-based companies in domains including technology, pharma, infrastructure, and agriculture can find opportunities in the Indian market, said Jeremy Lustman, a partner at DLA Piper, at the event.
Reforms initiated by Prime Minister Modi since 2014 have made it easier to do business in India today, said Benjamin Grossman, partner and head of Indian legal practice at Israel-based law firm Amit, Pollak, Matalon & Co. The reforms have made bureaucracy and regulation in India, "more 'investor friendly,'" said Mr. Grossman.
Untapped business opportunities in India can potentially greatly benefit Israeli companies, said Rubi Suliman, technology leader at PwC Israel.