Exclusive
Generic Focus made Kite Pharma Founder Leave Teva
Founder of cancer treatment company sold to Gilead Sciences for $12 billion, says Gilead wants "to crack the cancer market"
I was brought to Teva Pharmaceutical Industries Ltd. for the company's innovative business, not for its generic business, said Kite Pharma founder Arie Belldegrun Sunday.

For daily updates, subscribe to our newsletter by clicking here .

Mr. Belldegrun was a member of the board of directors at the generic drug company from 2013 until January 2017, when he announced his surprising retirement with the intention of focusing on his various executive roles at Kite Pharma. In August, the immunotherapy cancer-treatment company was bought for $11.9 billion by Gilead Sciences Inc., a value roughly equivalent to the current market capitalization Teva reached after a financially devastating year.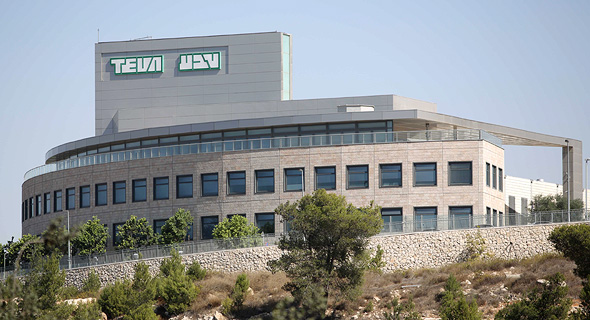 Teva

Mr. Belldegrun's timing was perfect. He left a few months after Teva completed its $40.5 acquisition of Allergan's generic arm Actavis, first announced in July 2015, but before the huge debt the deal generated brought Teva's stock really crashing down.

Speaking at a conference in Tel Aviv to a crowd of analysts and investors, Mr. Belldegrun said that as time passed, Teva gave more and more weight to its generic business, an emphasis that culminated in the Actavis deal and in Teva becoming the largest generic drug company in the world. That's why he felt he wasn't needed anymore, he added.

The U.S. Food and Drug Administration approved Kite Pharma's drug in October for certain types of a blood cancer called non-Hodgkin lymphoma (NHL). A single injection of the drug costs $373,000, largely due to the personalized nature of the drug. Kite Pharma's treatment uses a technology called chimeric antigen receptor T-cell therapy, or CAR-T, which engineers the patient's own cells to fight the patient's specific type of cancer.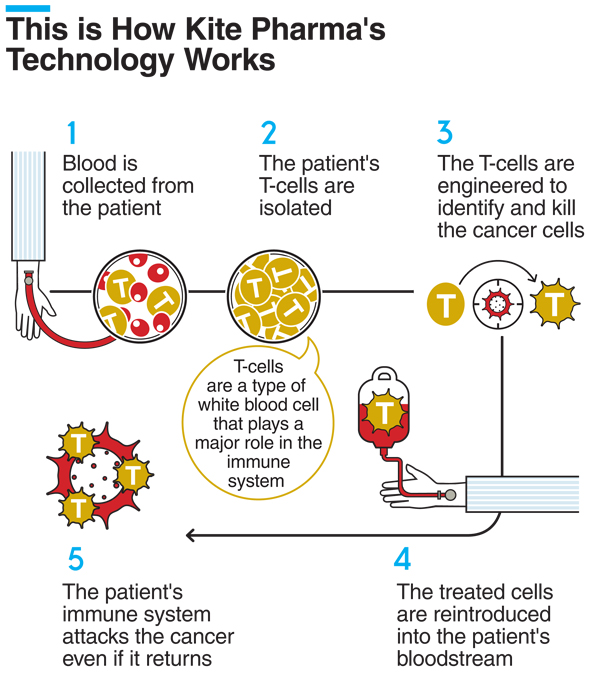 Kite Pharma's technology

Together with an additional treatment currently under developments, analysts estimate that Kite Pharma could see annual revenues of $4 billion.

Though the technology is at the forefront of the medical field, Kite Pharma is not the only company employing it. In August, Novartis International AG received FDA approval for its own CAR-T drug, designed to fight child leukemia. Pharma companies Juno Therapeutics and BlueBird Bio Inc. are also developing their own CAR-T drugs.

Kite Pharma is approached by companies developing immunotherapy treatments every week, Mr. Belldegrun said at the conference. He added that it's not only the current "hot" field, but also a huge market that will reach $60 billion to $70 billion a year, and that the FDA knows it's a life-prolonging treatment that sometimes may be the only hope patients have.

During his talk, Mr. Belldegrun shared a story of meeting General Electric CEO John L. Flannery. "I asked him to build us a box," he said, that with the press of a button could process the blood in 15 different ways and extract ready-for-use T-cells. Today, he added, those 15 processes are all performed using different machines. Such a box could enable every hospital to carry out the process without necessitating high expenses or a sterile room.

Those boxes are the future of kite Pharma's medicine, but the company is focusing on developing treatments for cancer types other than NHL. T-cells can be engineered to perform various actions, said Mr. Belldegrun, and enter any tumor. The idea underlying the technology is to program the cells to activate only when they come in touch with the tumor itself and not before. They can potentially be programmed to carry any substance, even chemotherapy drugs, into the targeted tissues and release it only there.

When Kite Pharma listed on Nasdaq in 2014, the company only had 20 employees, Mr. Belldegrun said. Now, three years later, the company has 800 workers. Mr. Belldegrun believes that Kite Pharma will receive approval to distribute in Europe in March or April. Furthermore, the company will start manufacturing in a Shanghai facility in a few weeks following their collaboration agreement with Fosun Pharma, so the marketing approval is definitely Kite Pharma's first step towards "conquering the global market," he said.

The two companies signed an agreement to develop, manufacture and market anti-cancer drugs in the beginning of 2017, before Kite Pharma's acquisition. China is a huge drug market, second only to the U.S., and cancer is China's leading cause of death, according to 2011 data by the Chinese Ministry of Health.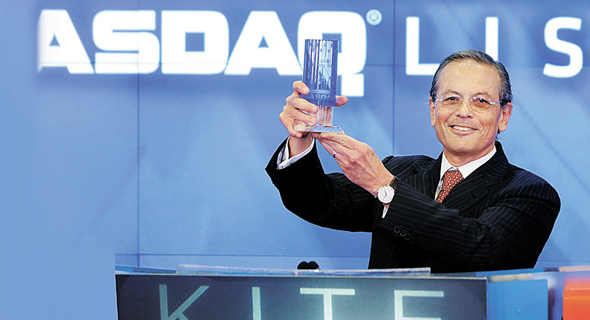 Arie Belldegrun at Kite Pharma's Nasdaq IPO

In an interview with Calcalist after the conference, Mr. Belldegrun was asked whether he regretted not listing Kite Pharma on the Tel Aviv Stock Exchange when so many other biomed companies are traded on the exchange. He replied that he might list other companies. "UroGen Pharma, for example, could be worth billions of dollars."

Israel-based UroGen develops a gel for the sustained release of drugs, focusing mainly on cancer treatment and urine tract infections. UroGel's stock has risen by 165.7% since the company's Nasdaq initial public offering in May, when it raised $58 million at a post-IPO company value of $155 million. Mr. Belldegrun sits as UroGel's chairman of the board and is also an investor.

Teva naturally comes up during the interview, given Mr. Belldegrun's history with the company, but he prefers to use Gilead as an example. "Gilead cracked the HIV market, and then the hepatitis C market, and now they want to crack the cancer market," he said, hinting at Gilead's focus compared to Teva's dispersion.

In 2011 Gilead paid around $11 billion for Pharmasset Inc., a company in the latest stage of clinical trials for a hepatitis C drug. Before the acquisition Gilead was a middle-sized pharma company with a market capitalization of around $30 billion, and active mainly in the HIV treatment market. Like Kite Pharma at the time of its acquisition, Pharmasset had no revenues and no FDA approval, but Gilead's bet paid off: the hepatitis drug returned Gilead's investment in less than a year, giving Gilead a market capitalization of $180 billion in June 2015. Now, the company is traded at a valuation of $96 billion.

Mr. Belldegrun refers to the deal with Gilead as "sixth months of tough negotiations."

Even when there's money in the bank, you need to plan ahead," he said. "I'm in Gilead's strategy team. They have $41 billion dollars in their coffers today, and they intend to dedicate $12 billion of that to acquisitions."

"That's what Teva should have done."