Exclusive
PC Market is Falling, but Lenovo Sells More Computers to Enterprises, Executive Says
With 55.5 million PCs shipped in 2016, Lenovo is the global leader in PC sales
Overall global PC sales are declining, but Lenovo is selling more computers to enterprises, said Luis Hernandez, vice president of the integrated development center at Lenovo Group Ltd. The dependence on PCs for building content, working, and creating, is helping Lenovo increase sales in enterprises, Mr. Hernandez said in an exclusive interview with Calcalist, held at Lenovo's offices in Yokohama, Japan last month.

For daily updates, subscribe to our newsletter by clicking here.

Laptop sales are experiencing a six-year decline. In the third quarter in 2011, 95.4 million laptops were sold worldwide, at an average price of $500. That same quarter, 150 million smartphones were sold, also at an average of $500. In the third quarter of 2016, smartphone sales rose to 362 million, while laptop sales declined further to 68.9 million. According to Statista.com, global revenue generated by laptops has been dropping since its peak in 2010.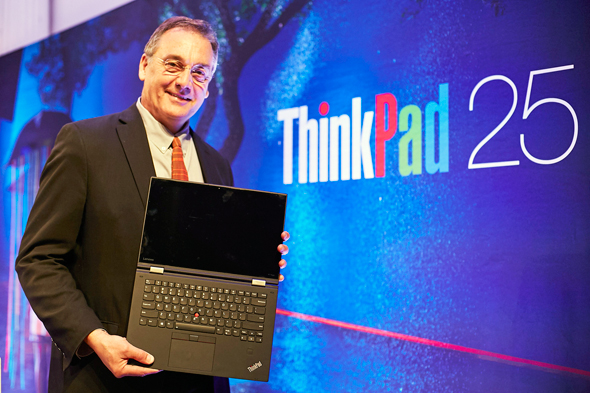 Lenovo Chief Design Officer David Hill presenting a laptop

According to market research firm IDC, Lenovo was the biggest global PC maker in 2016 with a 21.3% market share. Lenovo shipped 55.5 million PCs in 2016, down 3% from 2015, according to IDC data.

"Since the beginning of the year, 130 million computers were sold, and the corporate laptop category has been experiencing growth," Mr. Hernandez said.

Mr. Hernandez attributes the growth to the introduction of a new operating system, Windows 10, which caused many companies to decide to upgrade their computers. The launch of a new operating system has shortened the computer purchase-to-upgrade period, from an average of five years to four, and Lenovo has forecasted the period would go further down to three and a half years, he added.

Dilip Bhatia, Lenovo vice president of technology, said that after years of growth and development of cloud-based services and technologies, the center of gravity is leaving the cloud and returning to the computer. According to Mr. Bhatia, computers have proven faster, cheaper and more secure than cloud-based services.

It is not as if people are letting go of cloud technologies altogether, Mr. Hernandez said. The corporate sector simply understood that you cannot depend on the cloud for everything.

According to Lenovo, the bring your own device (BYOD) trend, in which companies gave up on dedicated computers, instead encouraging employees to install cloud-based applications onto their personal smartphones and tablets, is a reassuring example. "The trend failed, because organizations realized the applications do not work as well on every device, and because employees did not like to have work applications on their personal devices," Mr. Bhatia said, adding that when companies realized the BYOD method is not working, they started looking back to computers, fortifying sales.

Lenovo executives say that the buying cycles of laptop computers would shrink further with the rise of the smart office: a workspace that "knows" the location of employees, what project each employee is working on, what data they need and can facilitate video conferences. The vision promoted by tech multinationals such as Google, Microsoft, Apple, and Amazon.