NGO Launches Cybersecurity Training Program for Arabs with Israeli Citizenship
The cybersecurity sector has been closed-off to Israel's Arab population, says Paz Hirshman, the organization's co-CEO
Tsofen, a non-profit organization, promoting the integration of Arabs with Israeli citizenship into the local technology industry, has announced the launch of a new educational program designed to train Arab students in the field of cybersecurity.
For daily updates, subscribe to our newsletter by clicking here.
The cybersecurity sector has been closed-off to Israel's Arab population, says Paz Hirschmann, Tsofen co-CEO.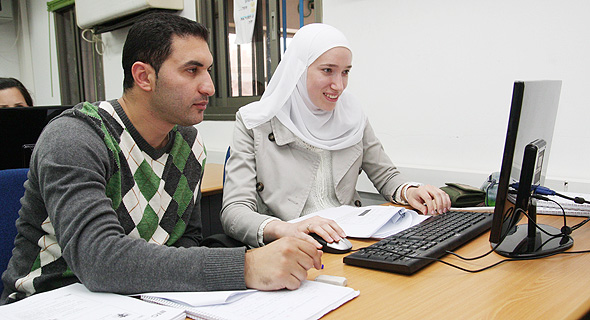 Tsofen classroom in Nazareth

This is partially due to the industry's dependency on ex-military personnel, resulting in an inherent bias against Arab population, which typically does not serve in the Israeli army.

The Israeli military, and in particular the intelligence corps, is considered a gateway into Israeli tech industry, with elite tech unit such as 8200 supplying the cybersecurity and tech industry with a flow of recruits each year.

"Most high-tech managers do not bother to adjust their recruitment process to non-military personnel," Mr. Hirschmann added.

According to a study published on August 27 by the Israeli Ministry of Finance, the Israeli Arab population comprises around 20% of the overall Israeli population and 17.4% of the country's workforce. However, Arabs with Israeli citizenship hold only 1.4% of lucrative tech jobs.

Tsofen's new 354-hour course offers advanced lessons in cybersecurity-related software, including software development and coding in Python and JAVA. The course is offered to students with a degree in computer science or a related field.

Founded in 2008 and based in Nazareth, a city in the north of Israel with a majority Arab population, Tsofen lobbies to bring more technology companies to Israel's northern region and promotes the inclusion of the Arab population in Israel's lucrative tech industry. Tsofen is backed by the Israeli government and by the U.S.-Middle East Partnership Initiative, a U.S. state department initiative supporting organizations and individuals promoting economic, political and social reform in the Middle East and North Africa.