Israel Sketches Framework to Regulate Civilian Drones
A scathing report published by the state comptroller shows the Israeli military, police, and civil aviation authority in cyclical attempt to transfer responsibility for drone-related threats
The number of air safety events involving civilian drones in Israel has risen by 70% this year, from 14 in 2016 to 24 so far in 2017, according to a report published Wednesday by the Israeli State Comptroller Wednesday.

For daily updates, subscribe to our newsletter by clicking here .

Use of civilian drones in Israel is growing rapidly in recent years, and the Civil Aviation Authority (CAA) is estimating the number of drones to reach 20,000 this year. Due to dated regulations, only 1.4% of these drones require licensing or registering, a condition that applies only to commercial drones.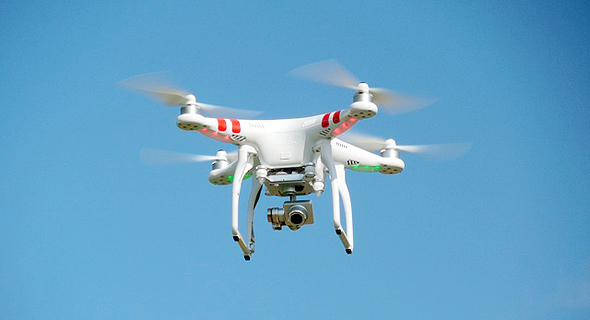 Drone (illustration)

According to the Comptroller's report, since 2015 the Israeli National Security Council (NSC) has been working to establish an operational framework to address the growing threat resulting of drone use, and to determine the roles of the police, military, and CAA in enforcing regulations.

In Israel, drone-related risks includes the the risk of accidents caused by amateur use of drones, which in the past was under the responsibility of the CAA; the use of drones in terror attacks by militants both outside and within Israel's borders, which would fall under the jurisdiction of the military and the police; and the use of drones for criminal activities, which falls under the jurisdiction of the police.

One of the issues highlighted by the report is the fact that the CAA is grossly under-staffed in an era where civilian and commercial drone use is swelling. Currently, the CAA only two inspectors overseeing civilian drone operators, and the fines the issue for unregulated use amount to fines that amount to $70-140 (NIS 250-500), which the comptroller said is not enough to deter drone operators from operating drones in no-fly zones.

The Comptroller, as well as Israeli police and Israeli military, are pushing to enforce licensing on non-commercial civilian drones, which the Comptroller said has proven to reduce safety incidents in the U.S. In opposition, the CAA has said that licensing will not be effective against drones flown for criminal or terrorist activities.

The use of drones in a manner that could jeopardize lives is considered a criminal offense, but the Comptroller paints a picture according to which the CAA has no legal authority to investigate civilian drone operators while the police also avoid acting in cases of illegal drone operation, saying they fall under the responsibility of the CAA.

According to the report, the NSC is set to present the comprehensive framework it has been developing in the past two and half years to the National Security Cabinet in a few weeks.