Daimler's Chairman Sees Swarms of Robo-taxis Coming
The automaker's Chairman Dieter Zetsche laid out his vision for the future of transportation at the inauguration of a research and development center the company opened in Tel Aviv
The cars of the future will be electric and move in automated fleets of robo-taxis, said Dieter Zetsche, chairman of automaker Daimler A.G., at the ribbon-cutting ceremony for a Mercedes-Benz research and development center in Tel Aviv Thursday.




For daily updates, subscribe to our newsletter by clicking here.

Mr. Zetsche laid out his vision for the future of automotive transportation, saying technology is rapidly transforming not only the industry but also urban infrastructure.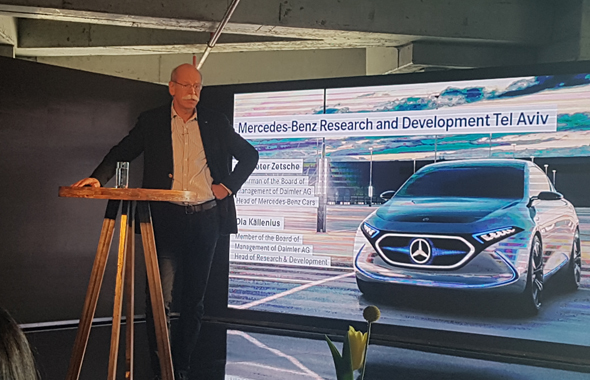 Daimler Chairman Dieter Zetsche

"Cars will basically become members of the Internet of Things and algorithms, predictive analysis and artificial intelligence, will ensure that our cars will move, for instance, like swarms," Mr. Zetsche said, adding that cars of the future will run on electricity and produce no emissions.

"These concept smart vehicles will know in advance where the next demand will pop up, and they'll already build a pool of vehicles to most effectively and fast as possible serve the needs of the customers," he said. "We are convinced by today that robo-taxis will be able to transport twice as many people with the same amount of cars and thereby definitely change the landscape of our metropolitan areas," he added.

Daimler's new center in Tel Aviv will employee 25 people who will help the company develop new user interfaces for its vehicles.The local office will also help Daimler partner with Israeli academics and tech companies.

In the future, Daimler plans to cooperate with local startups on digital automotive technologies such as biometric authentication and navigation.

"This is the country with the highest density of startups," Mr. Zetsche said. "Technology is the name of the game here in Israel, especially when it comes to digital technologies and that's where we are going as a car industry."

Daimler joins a crop of automakers, including Hyundai and Renault-Nissan, SEAT and Skoda that have opened or announced plans for research and development centers or technology incubators in Israel in recent years.

Daimler's Mercedes is one of the few car brands that do not install the crash prevention systems developed by Mobileye as part of the standard offering in its vehicles. Mr. Zetsche said Daimler has so far chosen not to partner with Mobileye, an Israel-based tech company recently acquired by Intel, because it does not provide automakers with access to the products it installs in vehicles.

He also said that Daimler may look to acquire local startups.