Viber Partners with the Sri Lankan Government to Raise Awareness of Dengue Fever
The instant messaging and voice over IP app is introducing a sticker pack developed in collaboration with the Sri Lankan Ministry of Health
Viber, the Israel-linked instant messaging and voice over IP app has launched a sticker pack designed to raise awareness of a dengue fever epidemic which is spreading across Sri Lanka. The sticker pack is a product of Viber's partnership with the Sri Lankan Ministry of Health and Sirasa FM, one of Sri Lanka's leading radio stations, Viber said in a statement Thursday.
For daily updates, subscribe to our newsletter by clicking here.
Dengue fever is a viral infection transmitted by infected mosquitoes. In 2017, the disease has affected more than 100,000 people in Sri Lanka, where dengue-related deaths are estimated at approximately 300 since the beginning of the year.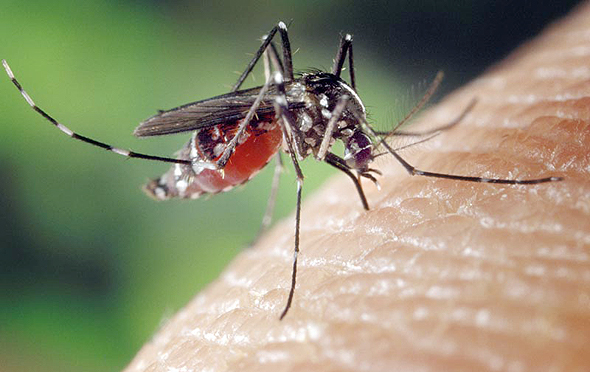 Mosquito (illustration)
Viber said that the sticker pack is designed to inform users on protective measures against infection, including wearing long-sleeved clothes, taking measures to eliminate standing water sources, and using mosquito repellents.
"We firmly believe the Viber Sticker Pack on dengue will be successful in creating mass awareness and community mobilization towards educating the people in preventive measures and helping prevent the spread of dengue in Sri Lanka," said Anubhav Nayyar, Head of Viber Asia.
"Community participation in dengue control is vital and public support imperative to help eradicate the disease," said Dr. Hasitha Tissera, government epidemiology department dengue control unit director. "The launch of the awareness campaign with Viber through their popular sticker pack will contribute towards protecting our communities against this disease."
Viber has over nine million users in Sri Lanka, sending approximately 70 million stickers each month in the country, the company said. Viber is the fifth most popular app in Sri Lanka in both iOS and Android, according to mobile market research company AppAnnie.com. It is the fourth most popular social networking app for ios and third in android in the country.
The Viber app was developed by Viber Media, founded in Tel Aviv in 2010 and bought by Japanese multinational company Rakuten, Inc. in 2014 for $900 million. According to the company, more than 900 million people use the viber app worldwide. Viber is tops the charts in the communication apps category in countries including Russia, Iran, the Ukraine, Iraq, and Greece, according to App Annie data.