Israeli Military Testing ZTube, a Video Sharing Service for Combat Operations
ZTube allows Israeli military commanders to access encrypted video feeds in real time from soldiers and vehicles in the field
The Israeli military is testing a new internal video sharing and streaming service for use in combat operations.

For daily updates, subscribe to our newsletter by clicking here.

Dubbed "ZTube," YouTube-like logo included, the service allows army commanders to access encrypted video feeds in real time from soldiers and vehicles in the field. It has been under development for the past two years.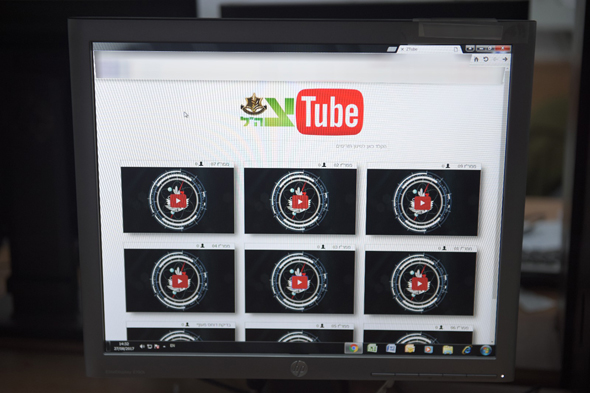 A screenshot from ZTube

"The ability to transmit video of the situation to combat forces through their mobile and stationary devices offers those forces a significant advantage," said Major Manor Moyal, who leads ZTube's development, in an interview with Calcalist last week.

An incident that occurred during the 2014 hostilities between Israel and the Hamas, the militant Islamist group which governs the Gaza Strip, offers an example of the tactical benefit of transmitting visual information to forces on the ground, according to a senior military official who was interviewed by Calcalist on conditions of anonymity.

An Israel sentry monitoring live video feeds noticed militants from Gaza infiltrating into Israel from the sea near Zikim, an Israeli kibbutz located a few miles north of the Gaza Strip. Military units in the area were called to respond with the sentry providing a specific location and a description of the militants. The Israeli forces managed to avoid any casualties, but receiving video from the sentry would have been helpful, the IDF official said.

Next year, Mr. Moyal and his team of 10 programmers will introduce a video archive and a view-on-demand feature, he said.

"Today, the video network exists as a pilot program, but we hope that it will integrate into as many systems as possible," said Mr. Moyal, who was recognized by Israel Defense Forces Chief of Staff Gadi Eizenkot in an award ceremony last week for his work on the video stream service.

Only several dozen videos have been shared on ZTube so far, but it is eventually supposed to supersede the Israeli military's' existing video transmission technology, which only allows for outdated linear broadcasting. It is like the difference between selecting what to watch on YouTube and flipping through channels on television.

"Until now, we have used a video network based on linear broadcasts," Mr. Moyal said. "ZTube, however, allows simpler uploading and viewing."

The United States military has explored video streaming technology through the Defense Advanced Research Projects Agency, which is part of the Pentagon. Connecticut-headquartered Vitec Group is among the private companies that market "military grade" video streaming technology.