Exclusive
Former Israeli Parliamentarian Says Homegrown Companies Can Help Build Saudi Future City Neom
Over the last decade, intelligence and commercial ties between Israel and the Gulf countries have been on the rise, a result of a perceived mutual interest in limiting Iran's influence. Israeli former parliament member Erel Margalit participated in a regional conference in Qatar last week
Israel-based technology companies can assist in the building of the planned Saudi city Neom, said former Israeli parliament member Erel Margalit in an interview with Calcalist Sunday. A futuristic vision portrayed in media interviews last month by Saudi crown prince Mohammed Bin Salman, Neom is to be built to the tune of $500 billion near the Aqaba Gulf, close to Israel's southernmost borders and the Israeli resort town Eilat. The plans announced describe Neom as robo-city and as a regional business and technology hub that will connect Saudi Arabia with Jordan and Egypt.

For daily updates, subscribe to our newsletter by clicking here.

The founder and chairman of Israeli venture capital firm Jerusalem Venture Partners, Mr. Margalit took part in a regional cooperation conference held in Doha, Qatar, last week. Following a defeat in a bid for the leadership of the Israeli Labor party, Mr. Margalit announced his retirement from the Israeli parliament and from politics in general in a Facebook post in early October. Mr. Margalit was first elected to the Israeli parliament in 2013, and served as a member of the parliamentary Foreign Affairs and Defense Committee and its cybersecurity subcommittee.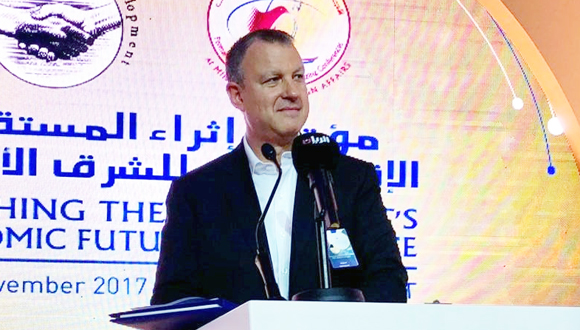 Erel Margalit

Organized by the University of California, Los Angeles (UCLA), the conference held in Doha brought together hundreds of government officials and business persons from countries including Afghanistan, Algeria, Lybia, Kuwait, Oman, Qatar, Jordan, China, France, Canada, Australia, and Germany. Over the last decade, intelligence and commercial ties between Israel and the Gulf countries have been on the rise, a result of a perceived mutual interest in limiting Iran's influence. Beyond intelligence ties that have been publicly discussed by Israeli officials, the commercial ties focused on homeland security, water infrastructure and cybersecurity, many times through third-party companies registered in Europe or the Gulf. These ties have largely been kept unofficial.

Commenting on the intensification of commercial and intelligence ties between Israel and Gulf countries, Mr. Margalit said Israel-based cybersecurity firms aided Saudi oil and gas company Saudi Arabian Oil Co., known as Saudi Aramco, in dealing with the fallout of a 2012 cyber-attack that left the world's biggest energy company nearly bereft of all IT resources.

Following the May visit of U.S President Donald Trump to the Middle-East, and statements coming from the Saudi ruling family concerning the country's efforts to limit the power of Islamist groups, Israeli officials have publicly commented on the long-standing ties between the Israel and Saudi Arabia. On Sunday, Israel's Minister of Energy Yuval Steinitz said in a radio interview that Saudi Arabia collaborates with Israel against "Iran's growing influence in the Middle-East." Last week, Saudi-owned London-based news site Elaph published a first of its kind interview with Israel's army chief of staff Gadi Eizenkot, citing Lt. Gen. Eizenkot as saying Israel is willing to collaborate with Saudi against Iran.

In June, Saudi Arabia, Egypt, Bahrain and the UAE announced cutting diplomatic and commercial relations with Qatar due to the latter's ties with Islamist groups. Visitors to the annual regional cooperation conference held last week in Doha commented about the dwindled presence of visitors from these countries, said another participant at the event, Israeli-born Guy Katsovich, founder of Los Angeles-based startup accelerator Fusion LA. In recent years, Qatar stood out as a supporter of Iran, irking some countries in the region.

Despite the apparent warm-up in Saudi-Israeli relations, no formal ties are expected in the near future, said Mr. Margalit. "We're better off with more happening on ground—more and more collaborations. Sometimes it is easier to forge forward through economic collaboration than through the diplomatic echelons," Mr. Margalit said. He sees strong potential for advanced agricultural and food-related projects, and also for security-related collaborations.