Drones Are Used to Infiltrate Prisons, Says the Israel Prison Service
The Israel prison service is legally barred from taking down drones, even when they are operating in close proximity to detention facilities, official says
Almost every prison in Israel has experienced a drone infiltration event in 2017, according to the Israel Prison Service. Overall, 40 such events were reported in 20 detention facilities in 2017.
For daily updates, subscribe to our newsletter by clicking here.
Data on drone-related criminal activity was submitted to an Israeli parliamentary committee held Tuesday. The committee took place a week after the publication of a government watchdog report that detailed Israel's under-preparedness for drone-related threats.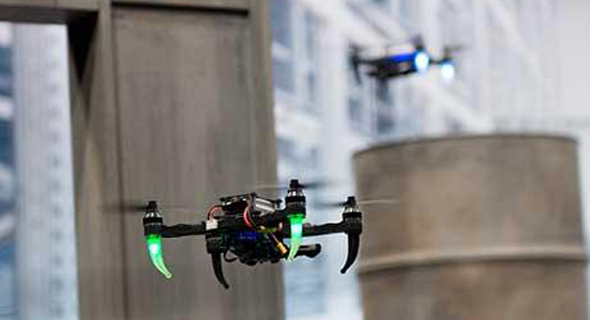 Drone (illustration). Photo: Qualcomm.com
In June, USA Today reported that U.S. Justice Department documents detailed more than a dozen attempts to smuggle contraband into federal prisons in the past five years. These contraband include mobile phones, drugs, and porn. According to USA Today's report, anti-drone technologies fail to protect jails against drones.
In 2016, the BBC reported that drones had been increasingly used to smuggle drugs and other contraband into jails in the U.K. The report cited data obtained through a Press Association Freedom of Information request that showed that such incident rose from zero in 2013 to two incidents in 2014 and 33 in 2015.
At the committee hearing, a prison service official said that detention facilities are legally prohibited from intercepting drones. "We detect and monitor the drones, and when we do, there's nothing we can do about it. Needless to say what could happen if a drone falls into the hands of prisoners that hold a security risk," he said, adding that in February, a drone carrying weapons and materials suspected as drugs infiltrated a prison in the center of Israel.
An Israeli police official said that while the police utilize drones in its operations, it is not involved in enforcing illegal drone activities.The statement echoes last week's government watchdog report that showed the Israeli police, military, and civil aviation authority in cyclical attempt to transfer responsibility for drone-related threats.
In Israel, drone-related risks include accidents caused by amateur users, the use of drones in terror attacks by militants both outside and within Israel's borders, and the use of drones for criminal activities. According to the government watchdog, since 2015 the Israeli National Security Council (NSC) has been working to establish an operational framework to address the growing threat resulting of drone use, and to determine the roles of the police, military, and the Civil Aviation Authority (CAA) in enforcing regulations.
Use of civilian drones in Israel is growing rapidly in recent years, and the Israeli regulator is estimating the number of drones to reach 20,000 this year. Due to dated regulations, only 1.4% of these drones require licensing or registering, a condition that applies only to commercial drones.
Benny Davidor, Head of Airworthiness at the CAA, said that the authority is considering adopting the American model of registering the majority of civilian drones online. "Anyone operating a drone weighing between 10.6 ounces (300 grams) and 55 pounds (25 kilos) will be required to register it, providing us with an electronic image of the majority of the drones."