Cannabis Breeder Barney's Farm Invests in Israeli Cannabis Company
Barney's made a strategic investment of $2.1 million in Tel Aviv-listed Medivie Therapeutic Ltd., a company setting up a medical cannabis farm and pharmacy venture
Amsterdam-based Cannabis Breeder Barney's Farm signed a $2.1 million (€1.8 million) strategic investment agreement with Tel Aviv-listed, Israel-based medical cannabis outfit Medivie Therapeutic Ltd., Medivie announced Tuesday.
For daily updates, subscribe to our newsletter by clicking here.
Barney's received around 244,000 of Medivie's ordinary shares, allocated according to a company value of $14.2 million for Medivie, as well as a seat on the company's board of directors. Medivie received permission to use Barney's logo and graphics for its future products.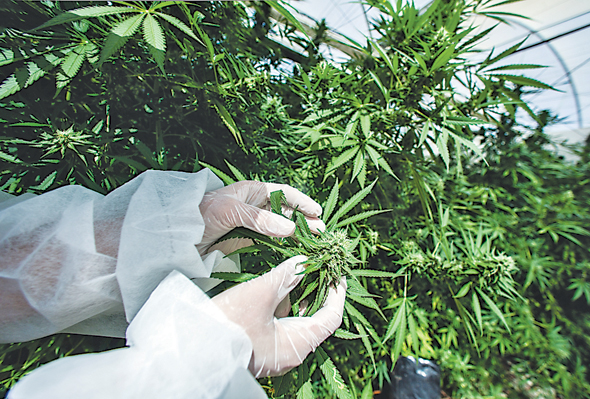 Cannabis (illustration). Credit: Bloomberg
Formerly a company manufacturing medical oral devices for pain and migraine relief, the company was sold as a shelf company earlier this month and then partnered with an unnamed Israeli Kibbutz growing medical cannabis in the country's north.
Once socialist rural communes, dozens of Israel's Kibbutzim are now attempting to become medical cannabis growers, seeking to benefit from the fast growing global market.
Under the agreement signed, Medivie will pay $4 million in milestones for a 51% stake in the cannabis growing operation being set up in the country's north. Medivie will receive 2.5 acres of the Kibbutz's agricultural land for a duration of three years, with an option to receive up to 47 more acres in the future. Medivie also has around 2 acres that will be used for manufacturing cannabis products.
Medivie considers the agreement as a stepping stone for developing, manufacturing and distributing its cannabis seeds and products globally where legal, the company said in the announcement. In a previous announcement Medivie estimated that it would be capable of selling products within a year.
The Israeli ministry of health has eased regulation pertaining to the use of medical cannabis in the country. Some mainstream Israeli politicians are also leading efforts to decriminalize marijuana use.