Israeli Mall Operators Slump on News of Amazon's Local Ambitions
Retail executives are more optimistic than investors, saying increased taxation on Amazon's sales will offset the logistical advantages of opening a local distribution center
Israel's three largest shopping mall companies saw their share prices drop following news of Amazon's plan to open a distribution center to serve the local market. On Sunday, Azrieli Group's stock was down by 4.4%, Melisron Ltd.'s by 6.1% and Big Shopping Centers Ltd.'s by 4.8%.

For daily updates, subscribe to our newsletter by clicking here .

While investors have registering their pessimism, top executives in Israel's retail industry are expressing mixed reactions, with some saying Amazon's expected entry to the market does not pose a serious competitive threat to the local industry.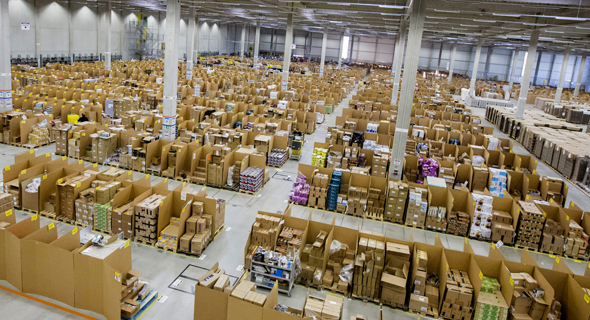 An Amazon warehouse. Photo: Bloomberg

"This won't change the status quo because you can already order from Amazon and Alibaba today," said Big Shopping Centers CEO Eitan Bar Zeev. "Amazon will stock only its 500 best selling products. It's not going to change the rules of the game."

Amazon currently ships to Israel through its distribution centers in Europe and elsewhere, but consumers have to pay extra because of the associated shipping and handling costs and deliveries can take weeks.

Whatever advantage Amazon gains from having local distribution will be offset by the increased taxes that authorities are expected to levy on the company's sales, Mr. Bar Zeev said.

"Shortening delivery times will not create a new world order because (Amazon) will have to pay value-added tax and customs tax," he said.

Online retailers that market to consumers in Israel are exempt from charging the country's value-added tax (VAT) of 17% on shipments of less than $75. Customs taxes are not required for orders of less than $500.

If Amazon follows through on its plans to open a distribution center in Israel, it is unclear whether it would still benefit from the tax exemptions afforded to online retailers.

"(Amazon) may bring about a drop in the level of taxation in Israel," said Mr. Shavit, who is the chief executive of Hamashbir 365 Holdings Ltd., which operates a chain of department stores. "When the tax authority understand that it's losing out on billions of dollars on online sales, it's either going to end VAT exemptions or reduce VAT for local players as well."