Interview
With Sports Sponsorship Deals, CEO Wants Rakuten to Become a Household Brand
With a host of acquisitions to support its global expansion, the number one Japanese e-commerce firm wants its brand to be recognized by its many users worldwide. As part of the effort, the company inked sponsorship deals with FC Barcelona and with the Golden State Warriors
Hiroshi ("Mickey") Mikitani wants to tie it all together. In recent years Rakuten Inc., the company founded by Mr. Mikitani in 1997, has gone on an acquisition spree, adding a host of global assets to its core activity as Japan's biggest online retailer. Now, Mr. Mikitani wants to integrate these assets and turn the company into a household name, rebranding its subsidiaries and inking flashy sponsorship deals with FC Barcelona and the Golden State Warriors.

For daily updates, subscribe to our newsletter by clicking here.

Wearing a hoodie with a nametag he has made compulsory in his company, Mr. Mikitani explained how these deals fit into Rakuten's grand strategy. "Our brand is extremely strong in Japan but hasn't been as strong in other countries," Mr. Mikitani said in an interview held Thursday at the Israeli offices of Viber, a popular instant messaging service Rakuten bought in 2014 for $900 million.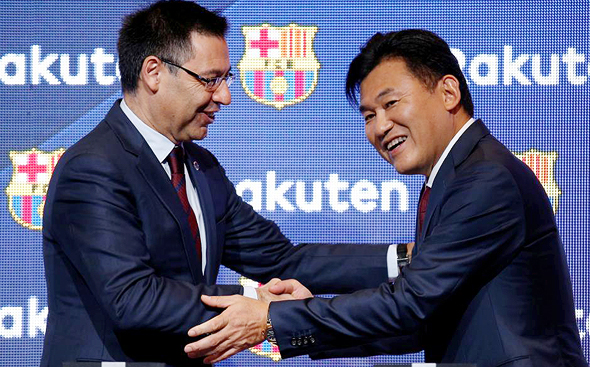 Hiroshi Mikitani and FC Barcelona's President Josep Maria Bartomeu shake hands. Photo: REUTERS

Rakuten has over 120 different services, including e-commerce, financial services, and media. In July, Rakuten announced it is unifying its global brands, on the eve of the company's 20th anniversary. In 2014, the company made its most expensive acquisition to date, buying Menlo Park, California-based online coupon, and cash-back company Ebates Inc. for $1 billion. In 2016, it acquired the intellectual property assets of Belfast, Ireland-based bitcoin wallet startup Bitnet, and launched its own blockchain lab in August of the same year.

Rakuten's various services are currently used by 1.1 billion registered users, but crossover between the services is not common, and many users don't even know the service they use belongs to Rakuten, Mr. Mikitani said. The company's final objective is to create an ecosystem of online and offline services linked by one membership, with an all-encompassing loyalty program. Rakuten wants to grow its user base to two billion, Mr. Mikitani added, with increased engagement resulting in increased revenues.

Most of the company's businesses now have "Rakuten" in their name, and the logos have been reworked into a more cohesive look. The only two subsidiaries still sporting their original branding are Ebates and French online marketplace PriceMinister.

In July, La Liga's FC Barcelona announced it had signed a €220 million, four-year sponsorship deal to feature Rakuten's logo on the team's shirts. Ranked as the second highest grossing soccer club in the world in 2016 by accounting firm Deloitte, the iconic Spanish soccer club is second only to Real Madrid in global popularity, with 103.5 million followers on Facebook and almost 26 million followers on Twitter.

In September, Rakuten announced a three-year sponsorship deal with NBA champion Golden State Warriors, worth $20 million a year according to ESPN. Beginning with the 2017-18 NBA season the team's jerseys will feature a 2.5 inches by 2.5 inches badge with Rakuten's logo. As part of the deal, the team also partnered with Rakuten and its subsidiaries on e-commerce operations, video-on-demand, and marketing.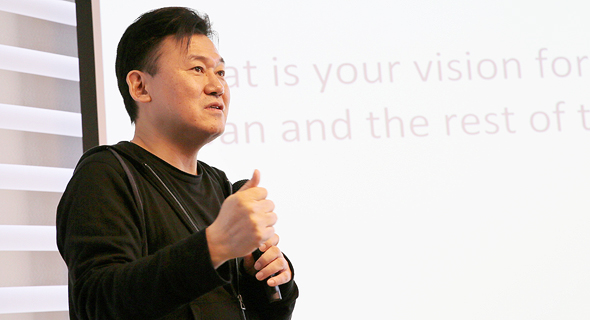 Hiroshi Mikitani at Viber's Israeli offices. Photo: PR

Mr. Mikitani highlighted FC Barcelona's unique ownership structure, which puts the club's ownership at the hands of 140 thousand members, as a good fit for the message he is trying to communicate. "It is very different from all other teams. It's very similar to our concept."" Mr. Mikitani said.

Viber, Rakuten's messaging service, will be the basis for Mr. Mikitani's vision of an integrated offering. "First we are going to attach Viber to the Rakuten membership," Mr. Mikitani said, making it easier to connect the company's other services with Viber's functionalities.

At the end of this process, Rakuten aims to offer services through Viber, the same way Tencent's messaging service WeChat lets users in China order and pay for third-party services. Mr. Mikitani said he wants to do what "WeChat did in China, and in other countries too," enhancing the value the company offers to users.

To supply users with a width of services through Viber, Rakuten will need to have a payment system that works in every market. "Of course, in some countries it's easier to add many functions, and in some it will be more difficult, but we can add external services to the communication functions, I think."

Rakuten already has many such services under its umbrella. It is the largest credit card provider in Japan, also operating an online bank in the country. It also owns a Japanese life insurance company and a local brokerage firm.

Since 2011, the company's sales have more than doubled, growing from 346.4 billion yen in 2011, to 781.9 billion yen In 2016 ($7.01 billion). In 2016, Rakuten's sales of financial services nearly equaled its domestic e-commerce sales. "Our members are using the credit card to buy things in department stores, supermarkets," Mr. Mikitani said.

By utilizing blockchain technologies the company can make some of its services "more scalable and efficient," Mr. Mikitani added.

"Rakuten is probably in the best position to do it, we are a big fintech business already," he explained, adding the company may try to make more comprehensive use of Bitcoin or other cryptocurrencies.

"I think the bottom line is we are going to see a cashless society in the mid-term future," Mr. Mikitani said.

This article has been revised. A previous version stated that Rakuten acquired Bitnet in full, and not just assets belonging to the company.