JD.com, WeChat, to Share Users' Data in Attempt to Wrestle Singles Day Out of Alibaba's Hands
The world's biggest online shopping event will start at midnight Friday, as two China-based giants partner in attempt to steal Alibaba's mojo
BEIJING—On Monday, screens at the south Beijing headquarters of online retailer JD.com presented data from the company's last special sales day in June. At midnight Friday, the charts will be replaced with new ones, tracking in real-time sales on China's biggest shopping festival, Singles Day.

Data about deal volume, bestselling products, and total sales will be shown for all to see, making sure all managers' and employees put foot to floor. To drive the point home, the same data will be presented on the computer screens of all managers in the company throughout the day.

In 2009, online retailer Alibaba turned what used to be a holiday invented by Chinese students celebrating single life into an online shopping fest with around-the-clock discounts and special offers. By 2016, sales on Chinese commerce websites reached $25 billion on Singles Day, according to a report by Hong Kong-based marketing data company iiMedia Research Group—nine times the total online shopping spend of Americans on Black Friday.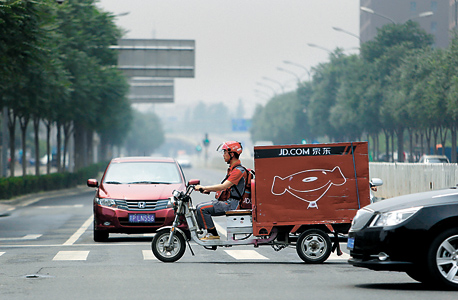 JD.com founder Liu Qiangdong delivering merchandise

While all of China's online retailers have a special sales day on Singles Day, Alibaba rules high. In 2016, 71.2% of all holiday transactions took place on its websites, according to iiMedia's report. JD.com, the runner-up, had 19.6% of the deals.

With annual revenues totaling $37.5 billion in 2016, JD.com boasts 258 million active users and a 70 thousand strong couriers fleet. To battle Alibaba's dominance this year the company is stepping up its game by expanding an existing partnership with Tencent, the developer of popular messaging platform WeChat, and the owner of a 20% stake in JD.com itself, to reach new customers.

As part of the cooperation, JD.com and Tencent would share users' data, and targeted, personalized ads by JD.com will be served to WeChat users. Data tapped to target the ads can include the occasional mention of a commercial brand as part of a WeChat conversation, or references that can imply a user would be interested in certain product categories.

Complex data integration with partners can help JD.com take away some of Alibaba's market share, said Paul Yan, president of advertising and business growth at JD.com in an interview with Calcalist.

Mr. Yan described the period leading to Singles Day as stressful. Over that period, he explained, JD.com managers can expect to "get plenty of alerts about things gone wrong at the middle of the night." All hands are expected on deck over the hectic period leading to the shopping extravaganza. "It is a fighting time, and we love to fight," Mr. Yan said.

"When I think of Singles Day, what comes to mind first is lack of sleep and a lot of instant noodles," said Belinda Chen, general manager of the company's watch sales unit, JD Watch, in an interview with Calcalist.

In the days leading to Singles Day, she added, most meeting rooms in the company would be occupied even as late as 10 pm. The average age of employees at JD.com, Ms. Chen said, is around 27. "People here move fast and are ready to work around the clock to provide our customers the products they want," she added.