Fish Farming Startup AquiNovo Raises $1.5 Million in Seed Investment
Farming company Neovia invested in AquiNovo, which develops a fish feed additive that makes fish bigger, faster
On Monday, Israel-based fish farming startup AquiNovo Ltd. announced it received a $1.5 million investment from multinational farming company Neovia.
For daily updates, subscribe to our newsletter by clicking here.
AquiNovo develops a non-hormonal additive to fish feed, which can enhance the growth of farmed fish and increase the efficiency and profitability of fish farming. The technology has been tested successfully in tilapia. AquiNovo CEO Nissim Chen said that the company intends to use the investment to develop and test AquiNovo's technology for use on salmon and other farmed fish In an interview with Calcalist Thursday.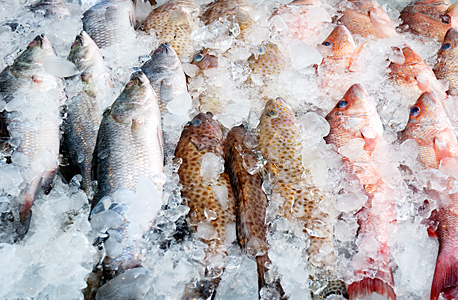 Fish (illustration). Photo: Shutterstock
The technology will be ready to market to fish feed producers and fish farms within a 3-4-year period, Mr. Chen said.
AquiNovo's technology uses a type of protein that, when consumed by fish at an early stage, inhibits fish "puberty" and reproduction, diverting the energy of fish towards growth. Fish become larger faster, which shortens their growth cycle. The fish are ready for market earlier, making aquaculture more sustainable and cost-efficient. In addition, AquiNovo says its technology could help reduce, and even eliminate, the use of hormones in fish farming.
Overfishing and the depletion of marine resources have led to a growing interest in sustainable and efficient fish farming technologies, said Mr. Chen. "One of the greatest challenges is food. In addition to population growth there is a change in lifestyle and socioeconomic standards, which lead to increased demand for fish-based protein," Mr. Chen said. "Fish is the primary source of protein for one billion people and a source of about 20% of the proteins consumed by another three billion people. It is of critical importance."
Mr. Chen added that fish farms provided 50% of the fish consumed in 2014, a number that is expected to rise as fishing regulations tighten and demand grows. "We can allow fish farmers to grow more fish with the same infrastructure and facilities, which will help the industry face its biggest challenge," he added.
Founded in 2015 and based in Misgav, in Galilee region in northern Israel, AquiNovo has four employees. AquiNovo is backed by The Trendlines Group, a Singapore-traded Israeli company focused on the commercialization of startups in the fields of MedTech and AgTech.