Sportscaster Bot Demoed with UFC Fighters at Amazon Event
Israeli businessman Mati Kochavi and entertainment executive Ari Emanuel partner to harness data for enhanced and automated sportscasting
Israeli-born businessman Mati Kochavi presented a demo for his new venture, Heed, LLC, which is developing a sportscasting artificial intelligence, at Amazon's AWS re:Invent conference in Las Vegas on Thursday.

For daily updates, subscribe to our newsletter by clicking here.

Two Ultimate Fighting Championship (UFC) fighters, Edson Barboza and Marc Diakiese, engaged in a two-minute scripted fight on stage with Heed's AI engine providing real-time data on aspects of the fight such as the force of the fighters' blow and their level of energy.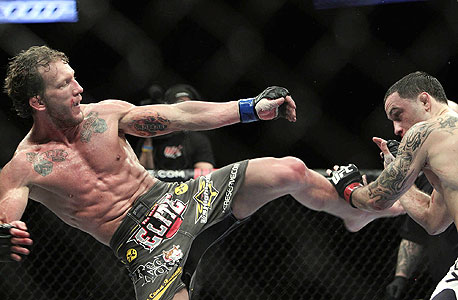 A UFC fight . Photo: AP

The data came from cameras and from sensors embedded in the gloves and in the mat, and Heed's software analyzed and visualized the data to create a storyline for the fight as it happened.

Heed automates the work done by sports commentators, but with the added insights afforded by a computer that can process vast amounts of data instantaneously.

Mr. Kochavi told the audience that the AI engine gleaned "70 new insights" during the fight.

"Those insights cover the entire aspect of the fight between Diakiese and Barboza," he said. "They cover their passion. They cover the power of the fight. They cover the resiliency. They cover the strategy."

Heed is the result of a partnership between Mr. Kochavi, who founded AGT International, a Switzerland-based homeland security contractor, and Ari Emanuel, the co-CEO talent agency William Morris Endeavor Entertainment, LLC, which owns UFC, a mixed martial arts organization.

"Our philosophy is that a sensor is a storyteller if it has very good analytics connected to it," Mr. Kochavi said. "We believe that the way to tell stories right now is the combination of science and technology and art."

Heed employs more than 100 data scientists and 100 developers, according to Mr. Kochavi. Headquartered in New York, the company also has offices in Israel and Germany.