Quanta Computer Signs Licensing and Production Deal With Israeli Augmented Reality Company Lumus
As part of the deal, Taiwanese consumer technology manufacturer Quanta will produce augmented reality eyewear with Lumus technology
Taiwanese technology company Quanta Computer, Inc. had entered a licensing and manufacturing agreement with Israeli augmented reality (AR) company Lumus Ltd., Lumus announced last week. As part of the deal, Quanta will manufacture AR headsets featuring optics developed by Lumus.

For daily updates, subscribe to our newsletter by clicking here.

Quanta-built AR headsets with Lumus optics are expected to be available on the market within 12 to 18 months, Lumus said in a statement. The financial terms of the deal were not disclosed.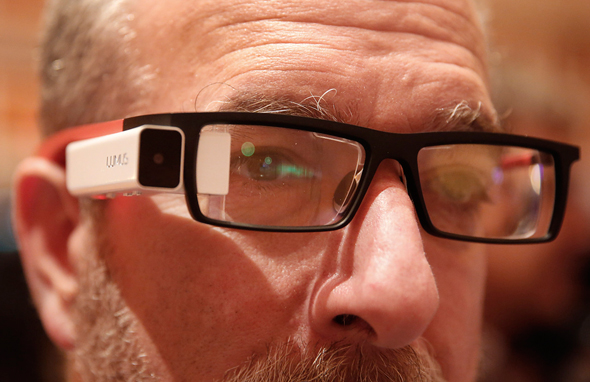 Lumus AR glasses. Photo: Bloomberg

Lumus' technology will significantly lower the price of AR consumer products, Lumus' vice president of marketing David Goldman told Calcalist, adding that Quanta intends to price the AR headsets at around $1000, similar to the price of high-end smartphones. "We expect to see more than a million units on the market in 2019, making it the world's most broadly used AR hardware," Mr. Goldman said.

"All the tech giants today are diverting resources to AR," Mr. Goldman added. "Up till now, the main setbacks were the relatively high price of the technology and a shortage of dedicated applications, but we are now seeing thousands of new developments."

Lumus was founded in 2000 by Yaakov Amitai, a former executive at Israeli defense optics company El-Op, which merged with defense technology company Elbit Systems Ltd. in 2000. Lumus is headquartered in Rehovot, 14 miles south of Tel-Aviv.

The company develops and produces transparent AR displays build with a technology reminiscent of optical fibers. Lumus has raised $58 million in investments to date, with Quanta leading a $30 million investment round in Lumus in late 2016.

Founded in 1988 and headquartered in Taiwan, with facilities across Asia, Canada, North America, South America, and Europe, Quanta is a manufacturer of notebook computers and other consumer electronics and electronic components. Quanta manufactures components for companies such as Apple, HP, and Dell. The company employs over 90,000 people worldwide, and its 2016 revenues amounted to $28 billion.