Following Restructuring Announcements, Teva Reinstated as Israel's Biggest Company
Teva's stock jumped 18.7% on the New York Stock Exchange between Thursday market opening and Friday market close. Israeli Prime Minister Benjamin Netanyahu is expected to meet with CEO Kåre Schultz Tuesday
Update 17:00: All of Teva's employees in Israel will strike Tuesday, following a call to action by the chairman of Israel's biggest labor union. 1,500 of Teva's employees and their families will hold a protest tomorrow in front of the offices of Israel's Prime Minister in Jerusalem, calling for his involvement.
For daily updates, subscribe to our newsletter by clicking here.
Teva is currently as much as 1.02% up on the New York Stock Exchange.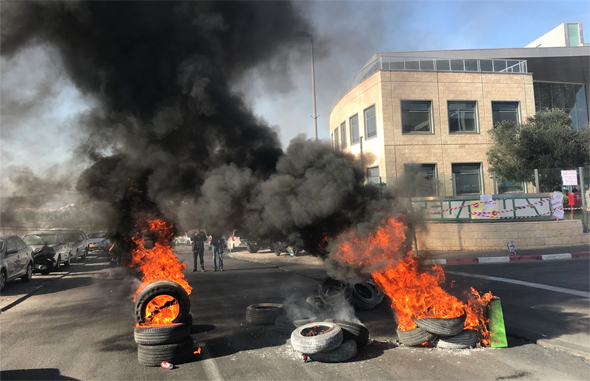 Teva employees protesting in Jerusalem. Photo: Amit Tomer

Teva Pharmaceutical Industries Ltd. jumped 18.7% on the New York Stock Exchange between Thursday market opening and Friday market close, following the company's official announcement regarding its reorganization plan, including the layoffs of 14,000 employees. The increase saw Teva regain its status as the highest valued Israel-based company in terms of market capitalization, with a current capitalization of $18.907 billion. Nasdaq-listed information security company Check Point Software Technologies Ltd. dropped from first to second place, with a current market capitalization of $17.52 billion.

Some analysts are responding favorably to the announced plan. On Friday, Jami Rubin from Goldman Sachs upgraded his rating for Teva's stock from hold to buy, and his price target from $15 to $20. David Risinger from Morgan Stanley and Vamil Divan from Credit Suisse have both upgraded their rating from sell to hold, with price targets of $18 and $20, respectively. Several other analysts reiterated their hold recommendations, while Randall Stanicky from RBC Capital reiterated his previous recommendation to sell on Friday, setting the price target at $13.

On the Tel Aviv Stock Exchange Teva is catching up to Mylan N.V. in terms of value, though Mylan is still in the lead by around $1.4 billion. Mylan plans to delist in February. Pharmaceutical company Perrigo Company PLC is in third place. Teva was up 0.79% on Sunday trading on the Tel Aviv Stock Exchange.

On Thursday, Teva published its reorganization strategy, intended to reduce its base cost, streamline its organization and increase its cash flow and profitability. Confirming an earlier announcement of a pivot back to a generic drug focus, Teva announced it will cut non-core and unprofitable products from its portfolio, either through the closure or the divestment of many of its manufacturing and research and development facilities. The cutbacks will see over 25% of Teva's employees let go over the next two years.

In its home base of Israel, Teva has long been hailed as the flagship of Israeli innovation. Created in 1976 by president Eli Hurvitz through a merging of three Israel-based pharmaceutical companies, the company was a symbol of Israeli innovation and business ambition for long years. The company currently employs almost 7,000 people in the country.

Teva's announcement of the planned layoffs of around 1,750 in the country, before future divestments, lead to a country-wide employee strike on Sunday. The country's largest labor union called on Thursday for a half-day strike in support of the company's employee, shutting down Israel's main international airport on Sunday, the country's banks and various municipal authorities and government offices. Teva's 500 employees in Jerusalem, where the company intends to shut down two facilities in 2019, have barricaded themselves on Sunday night with the intention of extending the strike through Monday. Further demonstrations are expected in other parts of the country, with 200 Employees in Teva's headquarters east of Tel Aviv announcing they will stop production Monday between 12 p.m. and 4 p.m.

Politicians across the Israeli political map have weighed in on the company's planned restructuring. Prime Minister Benjamin Netanyahu, Minister of Finance Moshe Kachlon and Minister of Economy and Industry Eli Cohen will meet with Teva's CEO Kåre Schultz Tuesday in to discuss the Jerusalem facilities. All three have commented on the planned layoffs in Jerusalem saying they will attempt to push back on the company's plans in the city, one of Israel's poorest.

"Our first priority is to minimize damages to employees," Mr. Netanyahu said during a government meeting Sunday. "Second, of course, is to do everything we can to prevent the factories in Jerusalem from being shut down."