Interview
Teva Might Have Been Better Off as a Smaller Company, new CEO Says
The generic drugs powerhouse is now carrying a $34.7 billion debt—a result of a $40.5 acquisition of Actavis. New CEO Kåre Schultz presented a detailed restructuring plan on Thursday
Teva Pharmaceutical Industries Ltd. CEO Kåre Schultz believes the company may be better positioned to regain its footing as a smaller company. "Maybe Teva had its best years from a financial point of view when it was slightly smaller," Mr. Schultz said in a phone interview with Calcalist Thursday.

For daily updates, subscribe to our newsletter by clicking here.

"If you think about the size in market cap, the size in earnings, or the size in the number of factories—I hope that Teva will get smaller in number and size of factories," he said.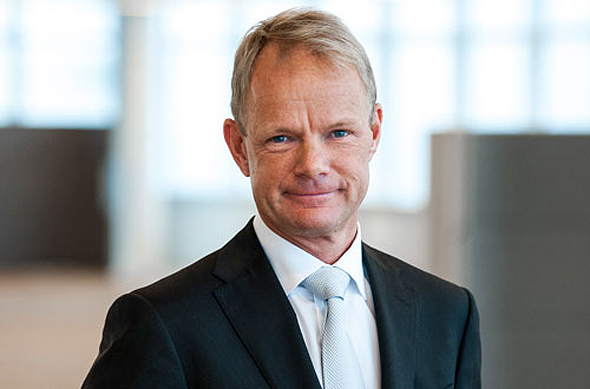 Kåre Schultz. Photo: PR

Earlier that morning Teva unveiled its reorganization strategy, confirming rumors of wide-spread layoffs, facility shutdowns and asset divestment. In Israel, the home-base of the troubled drugmaker, the confirmation sparked off protests from employees, labor unions, and politicians, culminating in a country-wide employee strike on Sunday and a general half-day strike of service providers such as hospitals, municipal authorities and Israel's main international airport.

The announcement came three weeks after a reorganization plan was first presented by the company, hinting at cutbacks and a refocus on generic medicine. Mr. Schultz stepped into the position of Teva's CEO on November 1, following a September announcement by the company. The search for a new CEO for the company lasted seven months.

"The Teva Board of Directors tasked me to position Teva for a dramatic turnaround in short to medium term," Mr. Schultz wrote in a letter to Israeli Prime Minister Benjamin Netanyahu Thursday. "I have found that our current business reality requires immediate and significant action to ensure the company's future. It is clear that without taking drastic steps in the coming weeks and months, the company will be increasingly vulnerable to potential takeover. "

A 30-year veteran of the Danish pharmaceutical industry, Mr. Schultz is not new to the troubles of a pharma company in need of a turnaround. In 2015 Copenhagen-based H. Lundbeck A/S tapped him to turn the company's strategy around after the expiration of several important patents saw the company's revenues drop significantly. Mr. Schultz cut 17% of Lundbeck's workforce after only three months at the job, earning the moniker "Hard Core" from the Danish press but reversing the company's financial outlook.

As part of the plans announced in detail Thursday, Teva plans to shut down most of the manufacturing operations in Israel and outsource them. "We are constantly optimizing the setup we have for all the production. It takes quite some time and investment to establish production, so you don't just change it overnight. In this optimization we sometimes end up with factories that it makes the most sense to phase out and eventually close because they are unable to compete with other factories," Mr. Schultz said the interview with Calcalist.

Teva currently has over 80 factories worldwide, but would be best served by 8-12 factories, Mr. Schultz said, adding that plant closures are not going to be as substantial as that. "Of course, that's not realistic—that is not how it is going to play out. It just means that in this process of optimizing we will have factories all over the world that will eventually be relevant to consolidate, and therefore we will close certain destinations."

Mr. Schultz further commented on the company's intention to shut down two production facilities in Jerusalem by 2019. The plans, he said, are not profitable and have not been so "for a long time," he said.

"It will be better for the company that we phase out there and eventually close our manufacturing there," Mr. Schultz said.

In the interview with Calcalist Teva's new CEO noted that the company does not intend on shutting down all of its production activities in Israel, explaining that each site is reviewed separately. "It's down to what exact products the factory is built for and what is the productivity and does it make sense or not. It's a specific analysis of each of the factories that leads to an ongoing process of consolidation," he said.

"I hope we will be able to increase our earnings and in the longer term also increase our global revenues. I don't think that would be the case short-term. Short-term I think we will see reduced revenues as we are optimizing the business, but long-term, of course, we will be the leading company in generics and also have a very strong specialty pipeline."

That specialty pipeline took a hit with the launch of generic rivals to Teva's brand-name multiple sclerosis drug Copaxone, which brought the company around $40 billion in revenues since the drug was approved by the U.S. Food and Drug Administration in 1996.

"Right now we're trying to maintain as much volume on Copaxone as possible," Mr. Schultz explained. "As time moves on and there's generic competition, and eventually there might be more generic competitors, then of course volume will be reduced. And sales values will also be reduced due to the fact that some of the volume—we keep it by discounting the product more to the big buying organizations in the U.S."

In his Thursday letter to Mr. Netanyahu, Mr. Schultz said he "personally and sincerely" wishes to apologize on behalf of Teva's previous management for the company's current situation.

In person, he refrains from pointing fingers.

"I think it is always very difficult to come into a company and then without knowing the history and the detail to try and give simple answers to what have been the biggest mistakes," he said when asked about the company's previous leadership.

"One of the huge challenges is the complexity that has come from the many acquisitions, and that's one of the challenges we are addressing as we speak," Mr. Schultz said. "Another challenge is, of course, the large proportion of earnings that have come from only one product, only from Copaxone, and the challenges that bring once those earnings start to reduce."

Despite his decision to fire around 1,750 employees in Israel in the near future, which drew attacks on his status as an "outsider," Mr. Schultz firmly states that Teva is and will remain an Israeli company.

"All companies that I worked for they had their roots somewhere, and I think it is very important for any company in the world to be true to its roots if it wants to be successful," he said during the interview. "I'm a firm believer in the agenda to be true to its roots which are a mixture of science and commercial skills and being able to move around the world and bring high-quality medicines to people all around the world. You need to be true to your original idea if you want to be successful in this company."