Connecting the Dots in the War on Cyber Terrorism
Agreements between the U.S., Israel and India, can be turned into a three-way pact to promote shared security interests
In a converging and connected world, collaboration between countries, global security agencies and businesses, is essential for countering cyberspace threats.
For daily updates, subscribe to our newsletter by clicking here.
In the past two years, cooperation concerning cybersecurity has become one of the key focus areas of bilateral engagements between the U.S., Israel and India, in such agreements as the US-India Cyber Security Cooperation Agreement (2016), the U.S.-Israel Operative Cyber Defense Cooperation Agreement (2016), and the United States-Israel Cybersecurity Cooperation Enhancement Act (2017), to name a few. The three countries share a common vision of cyberspace, and the recent intensity of exchanges and dialogue between these democracies points to a possible future trilateral cooperation concerning cybersecurity.
Last year, in large part, thanks to the successful "Digital India" program, initiated by the government to connect people to digital resources, India surpassed the United States in the total number of people online, becoming second only to China. This accelerated pace of digitalization and IoT adoption has made cybersecurity a top priority for India. Under Prime Minister Narendra Modi, the Indian government focuses on increasing its own cybersecurity capabilities while simultaneously promoting cyber cooperation with friendly nations.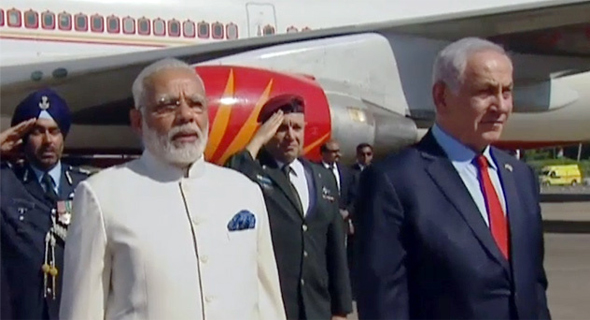 Indian Prime Minister Narendra Modi and Israeli Prime Minister Benjamin Netanyahu. Photo: Israeli Government Press Office
In 2016, the United States and India released a principles document titled "Framework for the U.S.-India Cyber Relationship." The main priorities of this collaboration are to strengthen critical internet infrastructure, mitigate cyber threats to ICT (information and communications technology) infrastructure, establish communications on cyber threats, implement better practices across departments, undertake research and development and capacity building programs.
Mr. Modi's historic visit to Israel earlier this year sent a much-needed message against radicalism, extremism, and terrorism online. Upon agreeing to formalize cooperation on cyber issues through a joint framework, Mr. Modi and Israeli Prime Minister Benjamin Netanyahu released a statement, saying: "we have agreed to do much more together to protect our strategic interests and also cooperate to fight against growing radicalization and terrorism, including in cyberspace."
The "United States-Israel Cybersecurity Cooperation Enhancement Act 2017" was introduced in the U.S. Senate in January. According to official sources, the act will secure funding for cybersecurity-related research and technology development activities through joint ventures by private companies, non-profit organizations, academic institutions, and government entities in both countries.
At the "Cyber Week 2017" conference in Tel Aviv, held in June, Mr. Thomas Bossert, Homeland Security Advisor to U.S. President Donald Trump, announced the commencement of a U.S.-Israel bilateral cyber working group, which will include representatives of government ministries and defense organizations in both countries. Later that month, Israel and the United States signed a joint declaration for operative cyber defense cooperation. According to the official statement, this makes Israel one of the first countries to join the U.S. Department of Homeland Security's information sharing platform between governments and companies.
As early as 2002 the Israel Security Agency established a cyber unit to protect its critical civilian cyber infrastructure, while most countries have not yet given much thought to such provisions. In 2015, Netanyahu launched the National Cyber Security Authority focusing on forming a link between civilian and military authorities. The NCSA is building a cyber net for securely sharing information, preventing future attacks, and providing guidelines on better dealing with cyber attacks. This June, the NCSA also published the Corporate Defense Methodology, a model for minimizing risks on an international level.
Over the past few years, Mr. Netanyahu has emphasized the need for a global alliance committed to cybersecurity. At the Cyber Tech 2017 conference, he said: "what you see today is going to get a lot worse in the future if we don't band together. It's not possible, as of yet, to have a very broad cooperation for cybersecurity between many governments, but it's important to have cooperation between some governments, and especially like-minded governments."
Author and entrepreneur Devsena Mishra is the co-founder and director of DappsTech Private Limited, a company promoting cybersecurity collaboration between India, the U.S. and Israel. She is also the founder of a2zstartup, an initiative that promotes startups in India.