Opinion
Israeli Entrepreneurs Need to catch up to 'Transforming India'
How India's growth could provide new opportunities for India-Israel relations
Two weeks ago, during the Global Entrepreneurship Summit held in Hyderabad, India, Indian Prime Minister Narendra Modi called upon entrepreneurs across the globe to become partners in India's growth story. India's technological cooperation is expanding beyond its traditional sectors, i.e., nuclear, defense and space, to other forms of energy, advanced infrastructures, smart mobility, urban management, agricultural technology, water management and healthcare, and more.

For daily updates, subscribe to our newsletter by clicking here.

Prime Minister Benjamin Netanyahu's upcoming January visit to India presents exciting potential for both sides. India considers Israel as a key partner in its path to development and growth. India is going through a big transformation, and both countries need to maximize the engagement of the common meeting points. Israeli entrepreneurs need to leverage the opportunities which Indian market provides.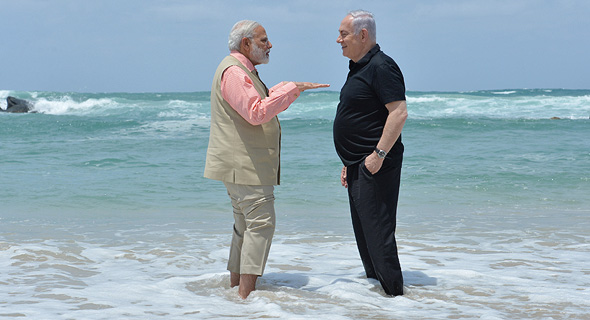 India's Prime Minister Narendra Modi and Israel's Prime Minister Benjamin Netanyahu. Photo: Kobi Gideon (GPO)

Both governments have taken some steps in this direction, such as the India-Israel Industrial R&D and Technological Innovation Fund (I4F), approved earlier this year; the India-Israel CEO forum, which has its first meeting in July; the India-Israel Innovation Bridge, an online platform created to encourage collaboration between Israeli and Indian startups; the Indo-Israeli Agriculture Project, launched in 2009; and MoUs (memorandum of understanding) between the Indian Space Research Organization (ISRO) and the Israel Space Agency (ISA), and MoUs on India-Israel water cooperation. But still, there is a lot which needs to be done to expand the technological ties between India and Israel.

A glimpse of 'Transforming India'

Mr. Modi's government has taken several steps to improve the ease of doing business in India since its 2014 election, improving the country's status on indicators like construction permits, the ease of getting credit, minority investor protection, paying taxes, enforcing contracts and resolving insolvency. The government has also rolled out several far-reaching economic and institutional reforms, including the goods and services tax (GST) reform, intended to fuel economic growth by cutting bureaucratic red tape and increasing tax revenues.

India is a young country. 800 million people in India are younger than 35, out of a population of over 1.3 billion. This offers enormous potential for business growth. Make in India, an initiative launched by the government in September 2014 to encourage in-country manufacturing by both local and international companies, has proven successful in easing processes and attracting foreign direct investments. An upgraded version, Make in India 2.0, is now planned in order to include sectors where India has a competitive edge, such as aerospace, defense, automotives and automotive components, capital goods and engineering, chemicals, steel, pharmaceuticals, cement, and electronic manufacturing.

Digital India is a key player in India's transformation process. It's a $1 trillion business opportunity across IT and IT-enabled services, telecom, and electronics manufacturing. The government's Digital India campaign, launched in 2015, is intended to improve the transparency, accessibility, and speed of the digital infrastructure in India and provide its citizens with online access to all government services. Bharat Net, a program intended to provide high-speed broadband internet to all rural areas by March 2019, is the infrastructure backbone of Digital India.

The Startup India program, announced in 2015, is an action plan to promote entrepreneurship and to minimize the regulatory burden of new ventures. The government has also launched the MUDRA scheme to provide easy financing to entrepreneurs from rural and remote areas. Since its launch in 2015, over 90 million loans worth around $66.4 billion have been sanctioned.

To involve the unbanked and underbanked people in the formal financial system, the Indian government has opened 300 million bank accounts under the Pradhan Mantri Jan-Dhan Yojana scheme, India's bank account opening drive. Through the recently launched World Food India initiative, the government is engaging entrepreneurs in the food processing industry and agricultural waste sectors. India's infrastructure and connectivity programs like the Sagarmala project, which aims to bolster India's shipping and ports infrastructure, and Bharatmala, the government-backed road and highways project, offer great opportunities for business and investment too.

When it comes to Innovation and Technology Israel has an edge over the others, but India is catching up. Israeli conceptual abilities, the country's experiences of building the economy from scratch by converting challenges into opportunities, and the experiences of dealing with some of the world's most adverse security scenarios can help India a lot.

The India-Israel partnership is based on a commonality of values and principles and a mutual respect for democratic culture, history, and civilization. The New India is ready to embrace Israel with open arms. As Mr. Netanyahu has said before: "when it comes to India-Israel relations, the sky isn't the limit because today even our space programs are working together to achieve even greater heights."

Author and entrepreneur Devsena Mishra is the co-founder and director of DappsTech Private Limited, a company promoting cybersecruity collaboration between India, the U.S. and Israel. She is also the founder of a2zstartup, an initiative that promotes startups in India.