Number of Israeli Blockchain Startups Up Around 50% in 2017
60 blockchain startups operate in Israel today, compared with 38 in 2016
The number of Israeli blockchain technology startups increased nearly 50% in 2017, according to data gathered by Start-Up Nation Central (SNC), a Tel Aviv-based non-profit organization connecting international entities with Israeli startups that also manages an Israel-linked startup database. SNC records show that there are 60 active Israeli blockchain companies today, compared with 38 in 2016, a spokesman for SNC told Calcalist.

For daily updates, subscribe to our newsletter by clicking here.

Equity investment in blockchain startups also rose in 2017, the SNC said. Israeli blockchain startups raised $17 million this year, compared with $12 million in 2016.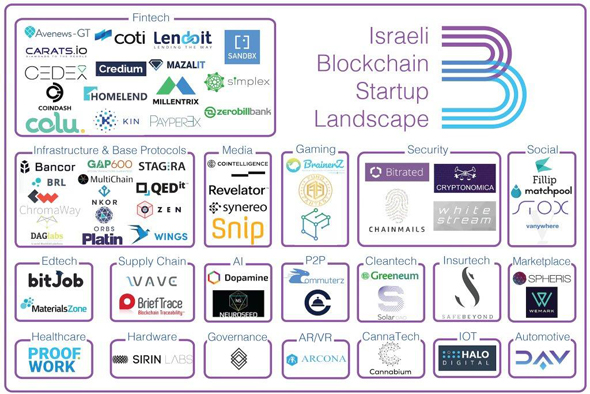 Israeli blockchain startupn map. Image: The Israeli Blockchain Association
On Tuesday, the Israeli Blockchain Association published a map of the Israeli blockchain startup landscape, listing more than 60 startups. The Israeli Blockchain Association was founded in November by Roman Gold and Gadi Isaev, both managing partners at Israeli investment firm JSCapital.
In its list, the Israeli Blockchain Association included startups that utilize blockchain technology as the basis for their product or service, in fields such as Fintech, Edtech, gaming, security, and infrastructure.
In a phone conversation Tuesday, Mr. Isaev said he had noticed foreign investors are increasingly interested in investing in blockchain-related Israeli startups, but that information on such startup was challenging to find. The realization prompted him and the association co-other founder, Mr. Gold, to publish a comprehensive list, featuring both startups that have blockchain as a core technology as well as startups that had adopted blockchain into their offerings. Once they created and shared the map on social media, Mr. Isaev said, more companies contacted them asking to be featured on the list. "Today, there are 15 startups featured on the map that I was not familiar with," he said.
The startups appearing in the Blockchain Association map are not necessarily the same as the 60 companies represented in the data gathered by Start-Up Nation Central, due to differences in methodology. The organization had mapped more than 75 blockchain related startups, but some are not active or in stealth mode.
In September, Israel's largest bank, Hapoalim, announced it is developing a blockchain-based digital platform for issuing bank guarantees. In a September statement, Bank Hapoalim CEO Erik Pinto called the new platform a "revolution" in online money management, adding that it will play a central role in the smart economy of the future.
Also in September, Israeli mobile phone company Sirin Labs announced it is developing a blockchain-enabled phone after an earlier product, a $14 thousand mobile phone dubbed Solarin, failed to meet sales goals. This week, Sirin Labs announced it raised $157.8 in an initial offering of a virtual coin, designed to fund the development and marketing of the company's blockchain phone.
Israeli shipping company ZIM Integrated Shipping Services Ltd. is one of the recent companies to integrate blockchain technology into its operations. In November, ZIM announced it completed a pilot program to replace traditional bills of lading with blockchain-based shipping documents. The pilot was carried out in collaboration with Israel-based startup Wave Ltd., developers of the blockchain-based application.