Another Strong Year for IPOs on the Tel Aviv Stock Exchange
Celltick Technologies Ltd. joins Uzi manufacturer SK Group among the companies that have already made preparations for a 2018 stock market listing in Israel
The Tel Aviv Stock Exchange is having its moment in the sun.

For daily updates, subscribe to our newsletter by clicking here.

With 20 companies having filed for initial public offerings in the past year, the stock exchange has attracted more companies looking to raise funds in 2017 than in the past five years combined.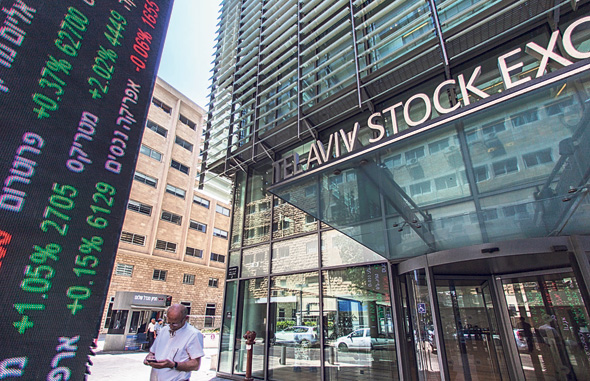 Tel Aviv Stock Exchange. Photo: Bloomberg

Companies that got listed on the exchange in 2017 raised about $860 million, compared to the roughly $115 million raised in IPOs in the previous two years.

The trend appears to be continuing into 2018 as several more companies have made plans to be listed on the exchange, the latest being Celltick Technologies Ltd., an Israel-headquartered developer of mobile marketing software.

Celltick is aiming to raise nearly $30 million a company valuation of about $145 million, according to several people familiar who spoke to Calcalist on condition of anonymity. Founded in 2000, the company is still considering other sources of funding but it has been meeting with underwriters and making preparations for an IPO.

Over the past several months, Calcalist has reported on a slew of companies planning a 2018 IPO, based on multiple interviews with anonymous sources.

Israel-based defense contractor SK Group wants to list on TASE in the middle next year at a $560-million valuation. SK Group's portfolio of properties includes iconic gun brands like the Uzi submachine gun and the state-the-art Tavor assault rifle. The company hopes to use the funding to expand in India.

Solaer Israel Ltd., which builds and runs solar and conventional power installations, is aiming for an IPO in April.

Tokyo-headquartered Internet Research Institute Inc., a technology-focused holding company, is listed as a candidate for listing by the TASE after the company registered in Israel in August. Internet Research Institute is aiming to raise $20 million to $30 million.