Israeli Startups Are in for Fierce Competition for Talent in 2018
AI and AR engineers, big data experts and developers of autonomous driving systems are expected to be in short supply in Israel in 2018, according to a new report
Employees of tech companies based in Israel are expected to take home bigger paychecks in 2018, as multinational firms expand existing research and development operations and establish new ones in the country. Israeli artificial intelligence specialists and engineers with experience developing augmented reality technologies are expected to be among the most sought-after talents next year, according to a new report published by Israel-based human resource management firm Ethosia-Human Resources.

Thursday.

For daily updates, subscribe to our newsletter by clicking here .

In 2017 chip companies Intel and Nvidia announced plans to open Israeli research and development centers focused on AI technologies. Booking.com CEO Gillian Tans announced the company is opening an AI development center in Tel Aviv in an October LinkedIn post.

Finance software maker Intuit Inc. is looking to recruit 100 AI specialists in Israel over the course of the next three years, Micky Csasznik, director of development at Intuit Israel, said in an interview with Calcalist in October.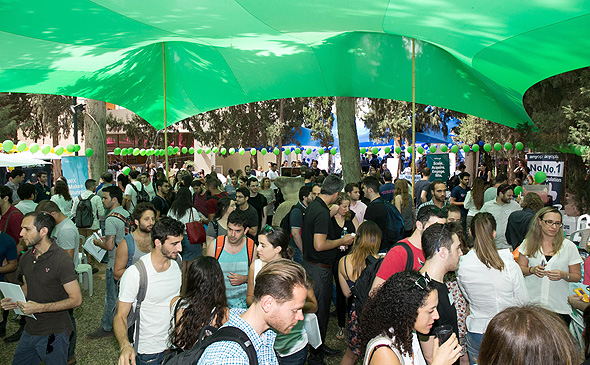 A 2017 job fair held in Herzliya, Israel. Photo: Ofer Amram

Information security specialists, big data experts, and developers of autonomous driving systems are also expected to be in short supply in Israel in 2018, according to Ethosia's report.

2017 also saw a 7% increase in outsourced jobs in the Israeli tech sector, at least in part as a result of "an effort to adapt to the existing shortage in employees," according to the Ethosia CEO Eyal Solomon. Graduates with less than two years of experience have benefited from the current conditions, with novice hardware and software engineers bringing in salaries 20% higher than in 2016.

A strained local talent pool may impact the ability of the Israeli vibrant startup scene. According to Mr. Solomon, competition with the likes of Amazon, Apple, and Microsoft over talent means Israeli startups will need to be "creative to be able to keep their employees."