Exclusive
Troubled Drugmaker Teva to Axe over 4,000 Jobs
Less than a month after stepping in as CEO, Kåre Schultz starts tightening the belt. The company is expected to oust Chief Scientific Officer Michael Hayden
Debt-laden drugmaker Teva Pharmaceutical Industries Ltd. is set to cut over 4,000 jobs, according to people familiar with the matter who spoke on conditions of anonymity.
For daily updates, subscribe to our newsletter by clicking here.
As part of the reconstructing program, the company will send termination letters to tens of percents of Teva's ten thousand employees in the U.S. in upcoming weeks, these people said, adding that Teva also intends to oust high-profile executive Michael Hayden, Teva's president of global research and development and its chief scientific officer. Mr. Hayden was appointed in 2012 by Teva's then CEO Jeremy Levin.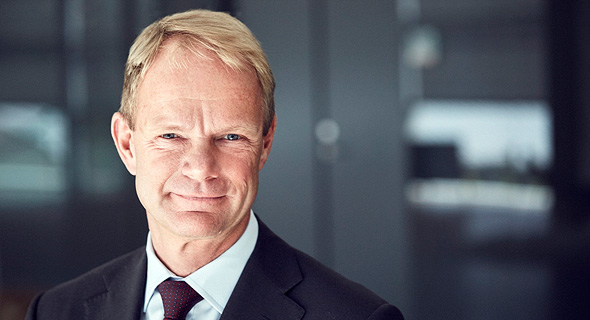 Teva's CEO Kåre Schultz
The company's Israeli workers are also facing the chop. Teva will cut 20-25% of Teva's 6,860 Israeli employees, these people said, adding that Teva's senior management, headed by new CEO Kåre Schultz, is currently working out the details with Teva's regional management in Israel and the U.S.
Mr. Schultz's appointment was announced in September, bringing an end to Teva's seven-month search for a CEO after former CEO Erez Vigodman stepped down in February.
Plans for layoffs in Teva's European units, currently employing over 24,000, are expected to be relatively minor, for now, these people added.
Falling generic drug prices and the expiration of patents related to the company's flagship drug Copaxone last year are at the core of the company's current woes. Falling revenues, both reported and forecasted, cast doubt on its ability to haul its debilitating debt load, accrued as a result of the company's $40.5 billion acquisition of Allergan's generic unit Allergan Generics in 2016.
In August, after publishing second quarter financial reports that fell short of analyst expectations, Teva said that it would lay off some 7,000 employees in the next two years. The current terminations will occur independently of those announced previously, the people familiar with the matter told Calcalist.
Danish media gave Mr. Schultz the moniker "hardcore" during his previous role as CEO of Copenhagen-based pharmaceutical company H. Lundbeck A/S.
When appointed as the company's CEO in 2015, Lundbeck was in the middle of a strategic crisis related to a patent expiration of its most profitable drugs. Mr. Schultz is credited with implementing a turnaround strategy for the company, without shying away from making cuts. In August 2015, just three months after stepping into the CEO role, he terminated 1,000 employees, almost 17% of the company's workforce.
At the time, Mr. Schultz told the Danish press that it is certainly possible to operate a good business with a thousand fewer employees.