Companies Leverage Eased Cannabis Regulations to Climb on Tel Aviv Stock Exchange
On Tuesday, shelf company Together Startup Network reported it is going into cannabis production. The next day its stock went up 59%. In November, another shelf company announced an injection of cannabis farming operation shooting up 559%
On Tuesday, Israeli shelf company Together Startup Network Ltd. reported to the Tel Aviv Stock Exchange (TASE) it is pivoting to cannabis-related activity, forecasting up to $172 million (NIS 600) million in annual revenues by 2021. On Wednesday, Together's stock went up 59.4%.

For daily updates, subscribe to our newsletter by clicking here.

An obscure shelf company before its latest filing, Together announced the expected transformation shortly before the due expiration of some of the company's options. In its announcement Together said it intends to merge with an unnamed cannabis farming and production company in exchange for 85% of its shares. It further stated the investors of the unnamed cannabis company will inject $860 thousand into the merged entity (NIS 3 million), at a company valuation of around $20 million (NIS 70 million).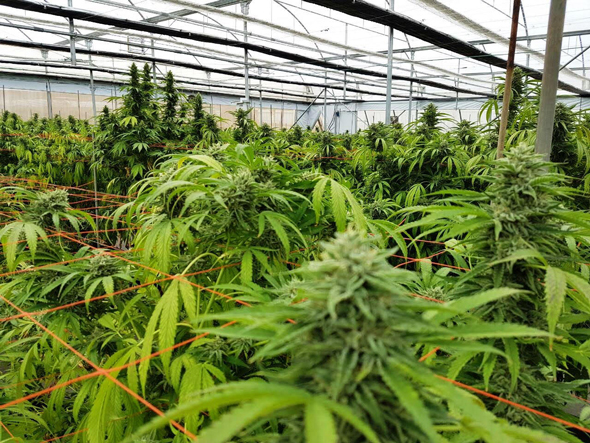 Cannabis. Photo: Seach Farm

The new company's assets: four initial permits by the Israeli Ministry of Health for the production, manufacturing, and marketing of Cannabis and medical cannabis products, and around 20 acres of farming land.

In November, Medivie Therapeutic Ltd., a medical devices business turned shelf company, announced plans to merge with an unnamed kibbutz cannabis farm, jumping 75.45% by market close the same day. Amsterdam-based Cannabis breeder, Barney's Farm, agreed to invest agreed to invest $2.1 million (€1.8 million) according to a later November filing. By market close Thursday the company completed a 559.2% rally.

Both companies may benefit from regulation changes in the country. A law to allow exports of medical marijuana from is making its way through the parliament after receiving support from top ministers, who estimated in August that sales could generate $1.1 billion for the Israeli economy. The bill is on track to be passed sometime next year.

Nearly 400 Israeli farmers have applied for licenses to grow cannabis since the government loosened restrictions on medical marijuana last year. The Israeli Ministry of Health also received 250 applications from marijuana nurseries, 95 from pharmacies looking to sell cannabis products, and 60 from entrepreneurs interested in opening marijuana processing facilities.

Israeli doctors will be able to begin prescribing medical marijuana to patients in next six months, a health ministry official told an Israeli parliament committee on Monday.