Israeli Shelf Company Sued for Misleading Investors with Crypto Mining Experiment Blunder
On December 18, Tel Aviv-listed Apollo Power announced the completion of a successful experiment to harness solar power for crypto-mining, sending its stock soaring within a few hours. Later that day, the company filed a clarification, invalidating some of the claims of the initial report
An Israeli shelf company whose stock soared in December after it mentioned a cryptocurrency mining experiment in a filing to the Tel Aviv Stock Exchange is now being sued for providing false information and misleading investors.

For daily updates, subscribe to our newsletter by clicking here.

A class action lawsuit against Tel Aviv-listed solar energy company Apollo Power Ltd. was filed Thursday in Tel Aviv District Court. The plaintiff, investor Eli Buchris, alleges in his complaint that the company filed a misleading report to the TASE in an attempt to influence investors.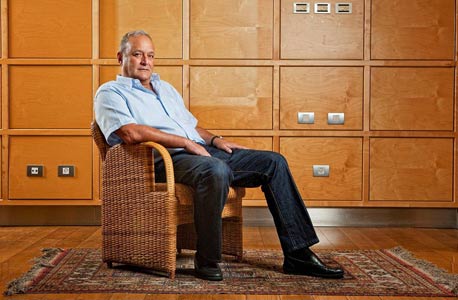 Apollo Power Chairman Itschak Sherm. Daniel de Albi
The lawsuit names Apollo Power Chairman Itschak Sherm, CEO Oded Rozenberg and company directors Eran Maimon, Lior Vider, Ziv Erez, and Vered Raz-Avayo as defendants.
On December 18, Apollo Power announced a successful experiment in harnessing its surplus solar energy to power crypto-mining machines. In the report, the company indicated that the experiment constituted a technological breakthrough, adding that it had filed for a patent in the U.S. for a modular solar system containing a built-in crypto mining component. By that day's market close, Apollo Power's stock was up 38%, adding around $4 million (NIS 14 million) to its market capitalization.
A few hours before that day's market close, Apollo Power filed a second announcement, following a demand made by the Israeli securities authority for further clarification. Apollo Power then divulged that it had conducted the 30-minute experiment three days earlier and that the company was able to mine 0.00054 Ethereum coins, equivalent to 4 cents given the exchange rates at the time. At this rate, the company said, it could potentially mine Ethereum coins worth $130 a year.
Apollo Power concluded the second report by stating that their solar system's current capacity did not enable it to mine bitcoins. The company did not supply information about the operational costs of the system described.
On December 19, Apollo Power's stock went down nearly 32%. The company's market capitalization, which increased from $10.7 million (NIS 37.8 million) to $14.8 million (NIS 52 million) the day before, had gone back down to $10 million (NIS 35.6 million).
In his suit, Mr. Buchris said he is one of a group of investors who acted quickly to purchase Apollo Power stock following the company's first announcement, believing it to be a reliable presentation of the company's potential entry into cryptocurrency. Mr. Buchris said that the second report, filed later that day, showed the first report was "partial, misleading, false, deceitful, and at the very least negligent."
Mr. Buchris alleges that Apollo Power caused major financial damage to him and other investors, valued at many millions of shekels.
Following a request for comment, Apollo Power said that it did not receive the lawsuit.
Apollo Power listed on the Tel Aviv Stock Exchange in early November after merging with a shelf company and has been trading with a market capitalization of around $11.7 million (NIS 41 million) before announcing the cryptocurrency experiment. It is one of four Tel Aviv-listed companies to recently announce plans to begin operations in businesses related to cryptocurrency or blockchain technology and subsequently added approximately $200 million (NIS 700 million) to their combined value in past months.
The stock of Tel Aviv-listed Natural Resource Holdings Ltd. shot up around 4,000% since October when the shelf company first said it is considering a pivot to cryptocurrency. In December, digital marketing company Apply Advanced Mobile Technologies Ltd. announced its intention to establish a blockchain and cryptocurrency venture, sending its stock up 252% by that day's market close. Also in December, Tel Aviv-based Fantasy Network Ltd. announced it had hired a blockchain advisor, sending its stock up 44% by that day's market close. The next day, the stock was up an additional 80%.
In response, the Israeli securities authority announced in December it will not allow companies whose value is dependent on bitcoin to be included in the exchange's indices.