The Shekel Appreciated Against All Major Currencies in 2017
The value of the shekel went up 6.7% percent compared to the dollar over the past year
The value of Israel's currency, the shekel, continued to go up in 2017 as measured against most currencies that are in trading in the country, according to a report by Israel's government Central Bureau of Statistics published Thursday.
For daily updates, subscribe to our newsletter by clicking here .
The Manufacturers Association of Israel estimates that the depreciation of the dollar cost Israeli exporters $2.3 billion in revenue in 2017.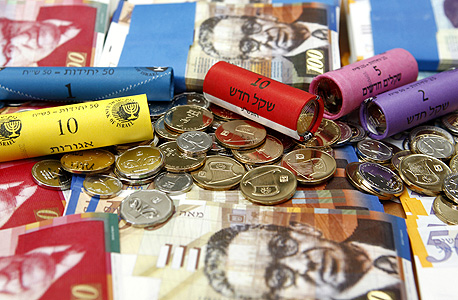 The shekel. Photo: Bloomberg

The shekel's value went up 6.7% compared to the dollar in 2017 and 4.6% compared to the euro. The shekel also appreciated by 12.3% against the British pound, 10.2% against the yen, 6.7% against the Jordanian dinar, 6.6% against the Swiss franc, and 4.5% against the Canadian dollar.

In 2016, the value of the shekel also increased but it grew stronger at a weaker pace.

The appreciation of the shekels continues despite efforts by Israel's central bank, which has been hoarding dollars. Earlier this year, when the Israeli government collected taxes on the $15.3 billion acquisition of Mobileye by Intel, officials decided not to exchange the money for shekels in order to avoid impacting the exchange rate.