Cell Phones Are The Top Cause of Car Accidents in Israel, Estimates Police Deputy Commissioner
2017 has seen an increase of 31% in the number of traffic tickets issued for mid-driving cell phone use in the country
Cell phones are the number one cause of traffic accidents in Israel, estimated Doron Yadid, deputy commissioner of the traffic division at the Israeli Police. The division he oversees strictly enforces a state law forbidding the use of phones while driving, utilizing undercover operatives on the road, aerial observation, and cameras, the deputy commissioner said.

For daily updates, subscribe to our newsletter by clicking here.

Data published by the division on Tuesday indicates that 2017 has seen an increase of 31% in the number of traffic tickets issued in Israel for mid-driving cell phone use—108 thousand tickets compared to 82,300 in 2016. Inter-city roads saw a 51% increase in cell phone related tickets.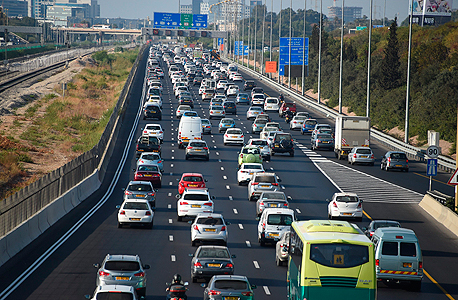 Intercity road in Israel (illustration). Photo: Yair Sagi

According to Mr. Yadid, division officers are instructed to use technological tools to clarify whether the driver used their cell phones during or before an accident, and "most specifically if they used cellular data for Facebook or mail."