Interview
Satya Nadella Unleashed Microsoft's Hidden Energy, Company Cloud Executive Said
As the president of Microsoft's cloud platform, Julia White has had a pivotal role in Satya Nadella's new vision for the company
While Julia White is unlikely to admit it, Steve Ballmer's retirement as CEO of Microsoft in 2014, and his replacement by Satya Nadella were two of the best things to happen to her career. Ms. White is Microsoft's corporate vice president of cloud platform, and the cloud was not really a top priority for Mr. Ballmer, who wanted to transform the company into an electronics manufacturer. It was Mr. Nadella who re-focused Microsoft's activity with the motto: "mobile first, cloud first." As the head of the company's cloud services, Ms. White was at the center of attention.
For daily updates, subscribe to our newsletter by clicking here.
In an interview with Calcalist held November, Ms. White said Mr. Nadella brought out an energy that was previously hidden in Microsoft. "There was such a big change culturally," Ms. White said.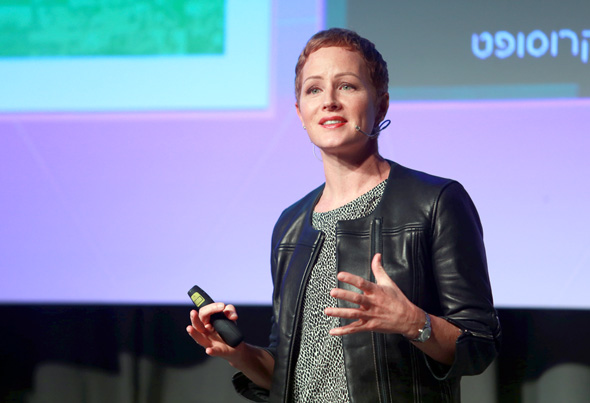 Julia White. Photo: Orel Cohel
"There was a period of time where people weren't sure where we are all going. But people are looking at us with a new light. Satiya did a wonderful job in bringing out a new part of the company that was always there but kind of shielded, at least the energy."
Ms. White, who holds a bachelor's degree in communications from Stanford and an M.B.A from Harvard, joined Microsoft in 2001 as a product manager in the company's industrial servers team. In 2012, she was appointed as manager of the Microsoft's Office division, a position which she held until 2016 when she assumed her current position.
One of the major transformations that took place during her time as head of the Office division was taking the entire office business to the cloud. "I was at the heart of that which is an amazing experience," Ms. White said. "We had to figure everything out. No one has done that before, taking this $25 billion business and transforming it into a cloud business."
While first perceived as an advantage in terms of operational costs, Ms. White said cloud computing is now a driving force behind new capabilities.
"We created our AI division almost two years ago," Ms. White said. "Out of that, you see many cognitive services, like facial recognition, voice recognition, and real-time translation."
Steve Ballmer's Microsoft was device-focused. "Steve was very big on getting us into devices. He was also very committed to the Office 365 business as well," Ms. White said. "We had to figure out a lot of things ourselves and learn and make mistakes, fix them and keep moving. That was our earliest experience moving into mission-critical cloud systems and what it meant for our customers," she said.
"I spent my four first years just talking to customers about how the cloud is not going to put them out of their job, and how there will be growth and that this is just one of many transitions they are going to experience from a technological perspective."