Exclusive
WeWork Planning Bond Issuance in Israel in Coming Months
The real estate company is hoping to raise hundreds of millions of dollars through bonds issued on the Tel Aviv Stock Exchange, sources tell Calcalist
Coworking real estate company WeWork is aiming to raise hundreds of millions of dollars through a bond issuance on the Tel Aviv Stock Exchange in the upcoming months, according to representatives of Israeli institutional investors and people familiar with the company who spoke to Calcalist on condition of anonymity.

For daily updates, subscribe to our newsletter by clicking here.

A delegation of institutional investors from Israel will embark in the next few days on a visit to New York for a closer look at the company's performance and assets. The trip is being organized by WeWork's representative in Israel, Discount Underwriting & Issuing Ltd.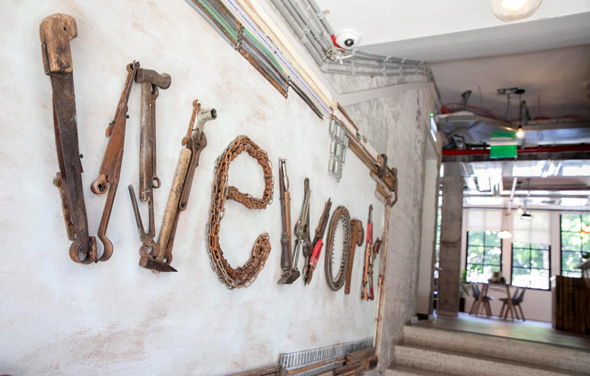 A WeWork coworking space. Photo: Orel Cohen

WeWork is also weighing the possibility of an initial public offering in New York, the Israeli executives said, adding that the company hopes the Israeli investors would choose to subscribe in the event of an IPO.

WeWork could not be reached for comment.

In November, senior executives from WeWork flew to Israel for meetings with local institutional investors to examine possibilities for fundraising and partnerships on new ventures. The Israel investors included Phoenix Insurance Company Ltd., Clal Insurance Enterprises Holdings Ltd. Meitav Dash Investments Ltd., Menora Mivtachim Insurance Ltd. and others.

WeWork was valued at $20 billion in August after a $4.4 billion investment from Japan's Softbank Group Corporation. WeWork's founder and chief executive, Adam Neumann, told Calcalist in March that the company is headed toward an IPO but he did not say when it would happen.

Mr. Neumann and his partner Miguel McKelvey founded WeWork in 2010. The company takes out long-term leases on office spaces that it transforms into lively coworking spaces for startups and professionals. Today, WeWork operates more than 150 locations in 36 cities, employing more than 15,000 workers.

Israeli-born Mr. Neumann met fellow WeWork executive Ariel Tiger while the two were serving in the Israeli navy. Some of WeWork's earliest investors hail from the Israeli venture capital ecosystem or have Israeli links. The company also operates a research and development center in Tel Aviv.

U.S.-based real estate developers have been flocking to the Israeli bond market since 2015, taking advantage of the relatively low interest rates in the country. They have managed to raise more than $3 billion over the past three years, according to the Real Deal, a New York-headquartered real estate news company.