Bitcoin is Not a Currency, Bank of Israel Deputy Governor States
The bank's position is that virtual currencies should be viewed "as a financial asset," the central bank's deputy governor said at a discussion held at the Israeli parliament
Israel's central bank will not recognize cryptocurrencies such as bitcoin as currencies, the bank's Deputy Governor Nadine Baudot-Trajtenberg said on Monday. The bank's position is that virtual currencies should be viewed "as a financial asset," Ms. Baudot-Trajtenberg said at an Israeli parliamentary committee on virtual currencies.
For daily updates, subscribe to our newsletter by clicking here.
"Bitcoin and similar virtual currencies are not a currency, and are not considered foreign currency," Ms. Baudot-Trajtenberg said.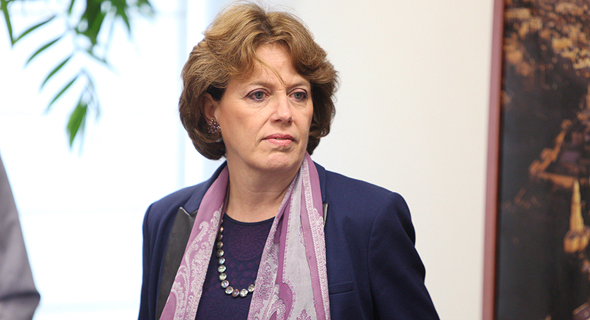 Nadine Baudot-Trajtenberg. Photo: Omer Messinger
In December, Calcalist cited government officials who spoke on condition of anonymity, saying that the Israeli Ministry of Finance and the Bank of Israel are exploring the possibility of creating an official Israeli state cryptocurrency. The government officials said the purpose of such undertaking would be to decrease Israel's dependency on cash transactions, which increase the risk of money laundering and tax evasion offenses.
Countries such as Sweden, Japan, and China already begun testing the issuance of official state virtual currencies. Also in December, Reuters reported that Bank of England Governor Mark Carney against central bank-issued virtual currencies, saying that when adopted by entire economies, these virtual currencies could cause financial instability.
Commenting on reports that Israeli banks block customers' attempts to transfer money in order to purchase virtual currencies, Ms. Baudot-Trajtenberg said the country's central bank sides with the banks, citing risks of money laundering and the volatility of crypto-currencies.
Last week, Israel's securities authority announced it had proposed a rule that would bar companies that trade or mine cryptocurrencies from being listed on the Tel Aviv Stock Exchange. The announcement came after a series of Tel Aviv-listed companies announced plans to move into the cryptocurrency business and soon saw their stock price skyrocket.
Speaking at the parliamentary committee, Shmuel Hauser, chairman of the authority, voiced concerns about the volatility of bitcoin. "A few months ago it was worth $200, then $20,000, then it dropped to $12,000 and now it's up again at $15,000—I'm not sure I understand what causes these price changes," Mr. Hauser said.