Tel Aviv City Hall, WeWork Collaborate to Bring Co-Living to Town
The city is promoting three co-living projects as a way to tackle a housing shortage
New York-headquarters real estate company WeWork is exploring the possibility of opening a co-living location near Tel Aviv's corridor of skyscrapers, the city's chief planner Orly Erel said in an interview with Calcalist. Tel Aviv is also promoting two other co-living projects, as a way to tackle a housing shortage and soaring rental prices.
The collaboration was first reported by news website NoCamels.com.
For daily updates, subscribe to our newsletter by clicking here.
Last year, WeWork opened one WeLive location in New York and another in the Washington, D.C. metro area, where residents occupy small living quarters while having access to common areas with kitchen and laundry facilities and recreational amenities.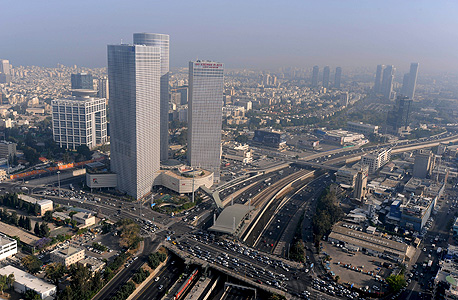 Azrieli Center. Photo: Bloomberg
The new project in Tel Aviv would involve the construction of a 17-story building at a site being developed by Azrieli Group, an Israel-based real estate company. The site is located on a strip of land north of the Azrieli Center and adjacent to a number of buildings that Azrieli is planning for the area, including an 80-story tower that would become Israel's tallest.
WeWork plans to dedicate some of the floors in the new project to its WeLive brand while using other floors for the company's core shared office space offering, Ms. Erel said. Few details are available because the project is still at a preliminary stage.
WeWork declined to comment. The Azrieli Group did not respond to a request for comment.
Ms. Erel said WeWork has the city's backing as the company navigates a regulatory process that could take 2-3 years.
"We want this project to move forward," she said. "We don't want to place burdens on it."
The main obstacle, Ms. Erel said, is that the type of living quarters offered by WeLive may not meet the legal definition of what constitutes an apartment in Israel. Israeli law outlines mandatory minimum specifications for all apartments.
WeLive offers residents small units that are attached to common areas that feature shared facilities for laundry, cooking, recreation and other activities.
"There's an issue with the size of these apartments," Ms. Erel said. "Israeli law does not know how to deal with (co-living)."
Ms. Erel and her staff are helping WeWork tinker with the wording of the plan in an attempt to find a workaround. Ultimately, new legislation in the Israeli parliament might be required before co-living can be approved, she said.
WeWork was founded in 2010 by Israeli-born Adam Neumann and his partner Miguel Mckelvey. Many of the company's earliest investors hail from Israel's venture capital ecosystem. WeWork has 207 locations across 65 cities around the world, including several shared office spaces in Tel Aviv and other Israeli cities.
In Israel, the company's brand has become almost synonymous with the larger trend of coworking at a time when startups and tech companies are demanding ever more office space. Microsoft, for instance, said last month it would lease coworking office space for 950 employees until it completes the construction of its new corporate campus in Israel.
But the country's real estate crisis also extends to housing. An acute housing shortage has been plaguing Tel Aviv for years, and the city is examining co-living as one possible solution. Over the past decade, housing prices in Israel rose about 125% and rent by 62%, according to information from the International Monetary Fund. In Tel Aviv, the country's financial and cultural hub, the cost of a house is equivalent to the average household income over 13 years, almost twice the national average, according to the organization.
In addition to the WeLive plan, the city is promoting two other co-living pilot projects.
Eitan Ben-Ami, who heads the city's Environmental Authority, said that co-living can be more efficient because it facilities the sharing of laundry and kitchen spaces.
"The thinking is that a square meter of space taken up by a single washing machine is worth 50,000 shekels in Tel Aviv," said Mr. Ben-Ami said.
He added that co-living may help the city become more sustainable.
"There's a campaign to promote sustainability in the city and it's backed by the mayor," Mr. Ben-Ami said.
A second co-living project under consideration would be located in an undeveloped plot in a well-off neighborhood in the north of Tel Aviv. The developer who owns the property originally planned to build a two or three floors of medical clinics but is now proposing a 7-story residential building with regular long-term rental apartments and some co-living units.
Residents of the neighborhood have organized against the new plan, saying that more housing would crowd an already congested area. They say the land should be used for a community center or some other public purpose.
Ms. Erel, however, said the co-living competent of the project constituents a public purpose and that her department would back the plan when it comes up for a vote in 3-4 weeks.
She called the neighbors' objections a case of "NIMBYism" (Not In My Back Yard).
Another co-living pilot is being planned as part of a larger real estate project in Tel Aviv poorer southern half located on a plot of land jointly owned by the city and by the Israeli government. The city is considering a plan to build 120 co-living units at the site, Ms. Erel said, adding that the city may develop the project itself or contract it out to a private company.